Elon Musk, Mark Zuckerberg, Oprah Winfrey, even White House Chief of Staff Ron Klain have signed up. So have leading professors, engineers, comedians, and politicians.
Launched in March 2020, Clubhouse, the invite-only social media app, already has over 6 million users and just closed another funding round that values the company at about $4 billion dollars.
The app (for the entire first year) was exclusively available to iPhone users who received an invitation from a Clubhouse member, which is why we wouldn't hold it against you for perceiving Clubhouse as one of the most elitist social media apps on the market. They finally released an Android app just this month (May, 2021).
Nonetheless, the apps' rapid success can't be denied. As an app founder, there are some valuable lessons to learn from Clubhouses' in-app user experience and marketing strategy.
In this article, we break down the process by which Clubhouse went from a Silicon Valley concept to utilising its 'exclusive' factor to become an international hit. We'll also examine its shortcomings and why the Clubhouse sensation may soon be a thing of the past.
Table of Contents
The exclusivity factor: How Clubhouses' invite-only strategy built hype
The role of a great UX and UI vs. a strong launch strategy
The gamble of betting on a great idea first and placing usability second
Wrapping Up
The exclusivity factor: How Clubhouses' invite-only strategy built hype
In February 2021, there were 6 million users on Clubhouse and over 10 million downloads from people hoping for a peer-to-peer invite to gain entry. (There's been a drop off since, which we'll discuss in a later section.)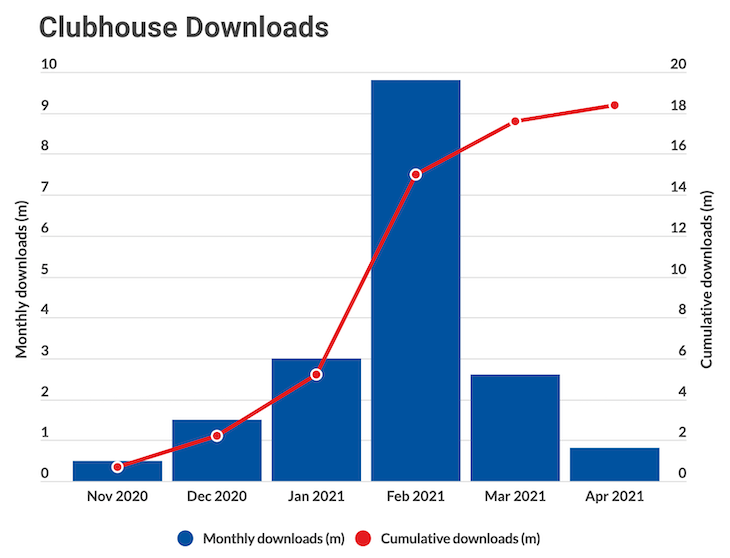 Clubhouse, an audio-chat social media platform, uses this invite-only methodology to drum up interest and generate demand.
Incorporating anticipation and hype into your marketing strategy can be incredibly effective, as the power of anticipation influences consumer behaviour and decision-making.
Consider how fear of missing out (FOMO) affects buying behaviour today. Studies show that 60% of millennials make reactive purchases due to FOMO (e.g. their friends purchased something and are enjoying it, so they want that experience too). Further, after seeing other families react positively to a purchase, parents are more likely to make the same investment for themselves.
Why do we exhibit this behaviour?
Psychologically, humans are driven by the desire to belong to a group. We also have a unique intelligence that gives us the freedom to choose. Yet, because we can't predict the future, we struggle with knowing if we're making the right choices. Thus, we look for cues from others and imitate their choices.
Social proof and word of mouth work the same way. People begin to hear about a product, service, experience, or event from their networks, wonder what the hype is about, and want to see it for themselves.
People also trust reviews more than a business's claims about itself, which explains why 94% of consumers are more likely to use a business if it has positive reviews, and 92% will walk away if they see negative assessments.
Combining exclusivity with social proof, Clubhouse skyrocketed to the #1 position for 'social networking' across several countries. This is further testament to the effectiveness of hype and anticipation in their launch strategy.
Of course, timing plays a role, too, and their timing could not have been more perfect (which we'll discuss in more detail below).
First, let's dive deeper into the core principles behind Clubhouse's appeal.
People desire inclusion
Most effective marketing strategies capitalise on the basic human desire of inclusion.
For example, the global film industry, worth over $140 billion annually, leverages inclusion, exclusivity and anticipation as staple marketing tactics.
In the build-up to any major film release, interviews and trailers proceed the feature film for months, with the sole purpose of building hype and anticipation.
Exclusive pre-screenings for a select audience of peers and critics further fuels the general public's desire to watch the movie on opening day.
Clubhouse uses these same principles. But where the film industry creates exclusivity with pre-screenings, Clubhouse does so with peer-to-peer invitations.
Peer-to-peer invitation-only and celebrity influence
For the entire first year, only iPhone users with an invitation from another Clubhouse member could sign up to the app. Still, even though now anyone with an iPhone or Android can download the app, they can't access the chat rooms without the key.
Consider how alluring that is. Clubhouse incentivises people to download an app that they can't even use. This is similar to putting a deposit down to get on a waiting list in the hopes that somebody will abandon their position and free up space.
Essentially, the potential reward is worth the effort, and the wait.
This, of course, limits the growth potential of the app. But Clubhouse is beginning to address this potential problem (as we'll discuss in more detail in a later section).
For now, they've focused on leveraging celebrity and media personalities, the likes of Kevin Hart, Elon Musk, and Oprah Winfrey, to participate on the platform.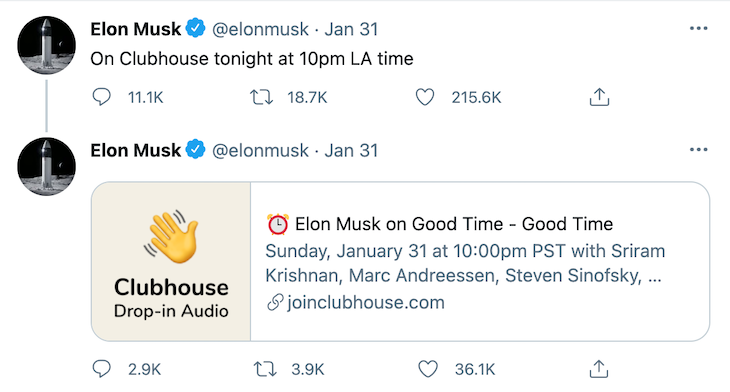 This helps to supercharge social proof and drive interest to exponential levels.
Transparency and validation with social proof
Traditionally, app founders use their app store listing or website as a platform for social proof. Clubhouses' website looks like this: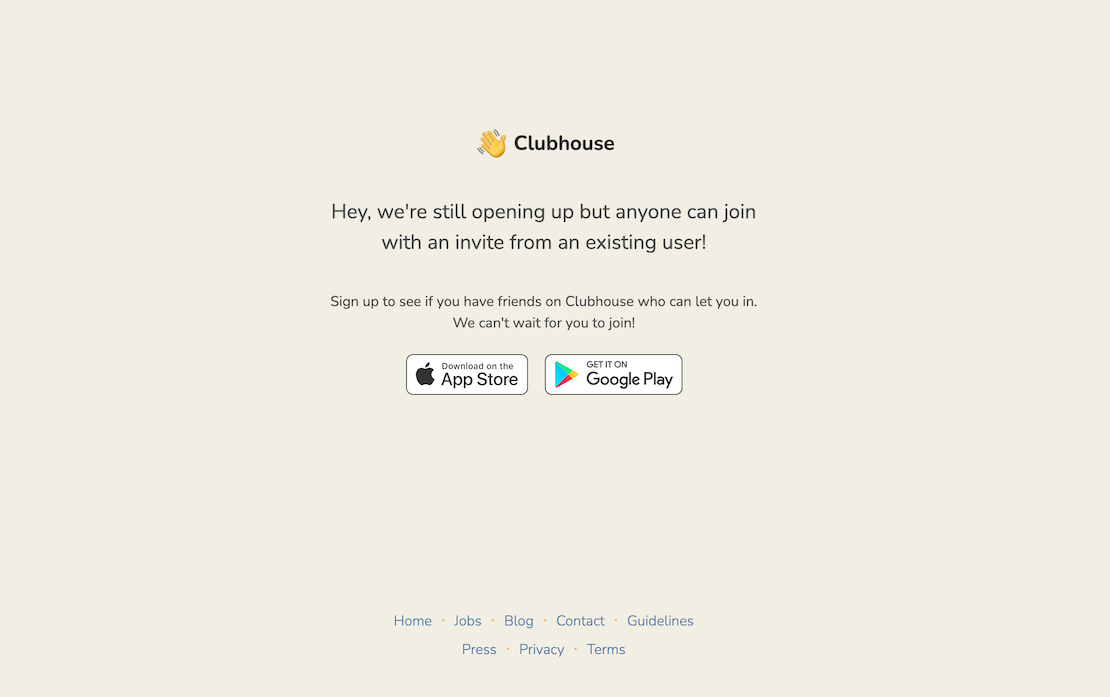 So how on earth are they leveraging social proof if they haven't even built a functional website?
You guessed it: social proof. Because celebrity influencers keep talking about Clubhouse, it proves that all the buzz created around the app must be for something.
We've just touched on a critical component of Clubhouses' early success: the user experience on the app.
The role of a great UX and UI vs. a strong launch strategy
An apps' UX is represented by every single touchpoint. This includes onboarding, signing up, creating a profile, and using the app.
Combining a valuable UX and an appealing user interface (UI) is what drives long-term app success.
Until this point, it is Clubhouses' UX that has made it such a successful social media app. According to early critics, the UX is enormously engaging, and the content on the app encourages daily use.
However, there is plenty of room for improvement (which we'll dive into shortly).
Where Clubhouse diverges from the industry is in its go-to-market launch strategy and user acquisition tactics.
Simple but engaging user experience
People have described Clubhouse as akin to "if LinkedIn could talk" or "if Medium had a voice".
Without a confronting camera or in-app recording function, users from all over the world can search and join any number of 'discussion rooms'. Each room has a different topic, curated by expert hosts with a range of experience and influence.
Room hosts and curators decide the rights that users in their rooms have. In some cases, users may only be allowed to listen in on the conversation. Other hosts allow users to request to speak or enable multiple speakers to talk simultaneously.
Participants then vote on their hosts, in effect socially regulating the reputation of personalities on the platform.
It's clear that the UX Clubhouse facilitates is hugely valuable, particularly in a mid-pandemic world where people have extra time, a desire to learn something new, and an impulse to connect with others in this unparalleled time of isolation.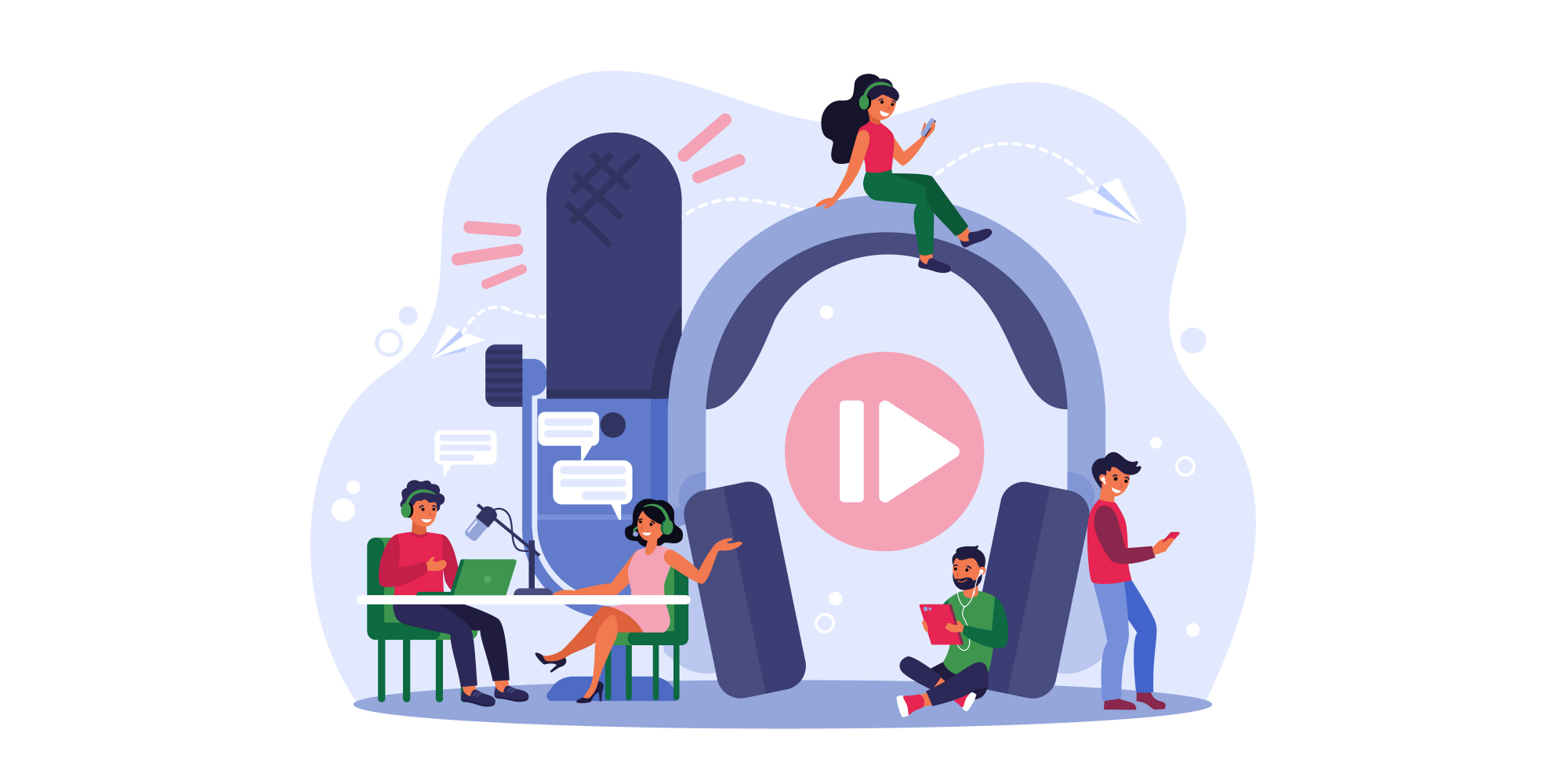 Encouraging daily use
Devoid of any visual components, Clubhouse empowers its users to engage with the platform during 'dead time' (i.e. time allocated to chores such as cleaning the dishes or folding the laundry.)
As these chores are habitual and repetitive, this strategy encourages daily use, which is key to long-term app success.
Furthermore, the app only allows users to listen to live discussions, as there are no recording features to playback the chats. This is a strong motivator for users to regularly check the list of
current talks and continuously engage with the app lest they miss out on a discussion of interest.
That said, while Clubhouse ticks the UX and daily usage boxes of standard app adoption practices, their initial launch stands in defiance of most standard go-to-market strategies and user acquisition principles.
The Clubhouse launch strategy: Unconventional yet powerful
Most new apps follow a standard go-to-market strategy that includes tactics such as app store optimisation, organic user acquisition, paid advertising, influencer marketing and an internal design to scale user growth.
Interestingly, Clubhouse is negating most best-practices:
In their app store listing, they have all but abandoned keyword optimisation
They don't have a subtitle or brand keywords
Their description is poorly optimised
They aren't purchasing ads
They haven't invested in organic user acquisition
And, as we saw in the last section, they don't even have a functional website
Take a look at Clubhouses' app metadata to see what we mean: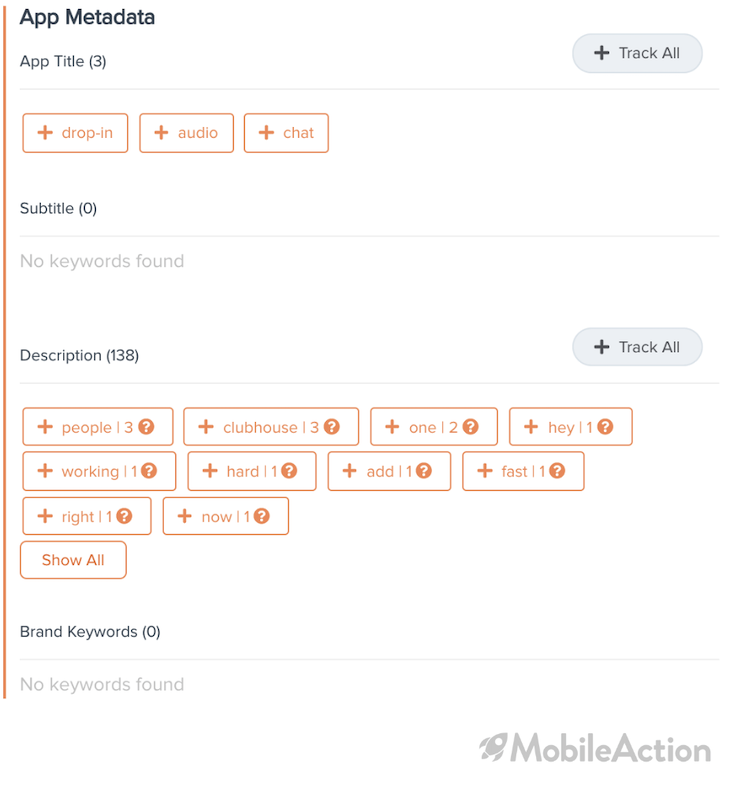 So, what gives? Why, despite ignoring these strategies, has Clubhouse seen so much initial success?
Why Clubhouse been able to use a non-conventional launch strategy (so far)
Clubhouses' exclusivity tactic is not the only reason why they've been able to skirt around app norms.
Here are a few other reasons why and how they've gotten away with an atypical launch (so far):
Content is king
Good, new, relevant, engaging content speaks for itself. Consider:
Who doesn't want unfiltered, direct access to their favourite celebrities and authority figures?
Who doesn't want to listen and chime in on live discussions on any topic imaginable, especially when we're all stuck at home in lockdown?
Clubhouses' conversations and discussion rooms cover all manner of topics, meaning the app offers users the chance to interact with like-minded people and expand their perspective.
This adds an element of discovery and adventure to the otherwise curated and targeted news feeds we experience on most social media apps.
As tech analyst Jeremiah Owyang, one of the first people to sign up for Clubhouse says, "The pleasure of not knowing what's next" is part of what makes Clubhouse so alluring and engaging.
This capacity for connecting with an untold amount of people and having unique discussions in real-time has allowed Clubhouse to rely on simply word-of-mouth referrals during this early stage of adoption.
Timely release
We've touched on this already, but it's important to note that Clubhouse launched as the world was entering into COVID-19 induced lockdowns (and ensuing meltdowns) in March 2020.
The limited social interaction caused by lockdowns and travel restrictions fueled the rapid growth of independent audio-only content, with podcast numbers increasing from 850,000 in January 2020 to 2 million in April 2021.
Screen time during the pandemic also doubled for most age groups. But with doctor's saying that more than 3 ½ hours of TV a day can be excessive and cause cognitive and physical decline, it's no wonder that people also sought other forms of entertainment.
Through market research, the Clubhouse team likely knew about the rising trend in audio-only content and developed their UX around the needs of their target market (alongside societal trends).
The timely release of Clubhouse cannot be underestimated when assessing how they
managed to avoid traditional launch tactics. If people had not been in lockdown, Clubhouse may very well not have reached such success (at least not so quickly).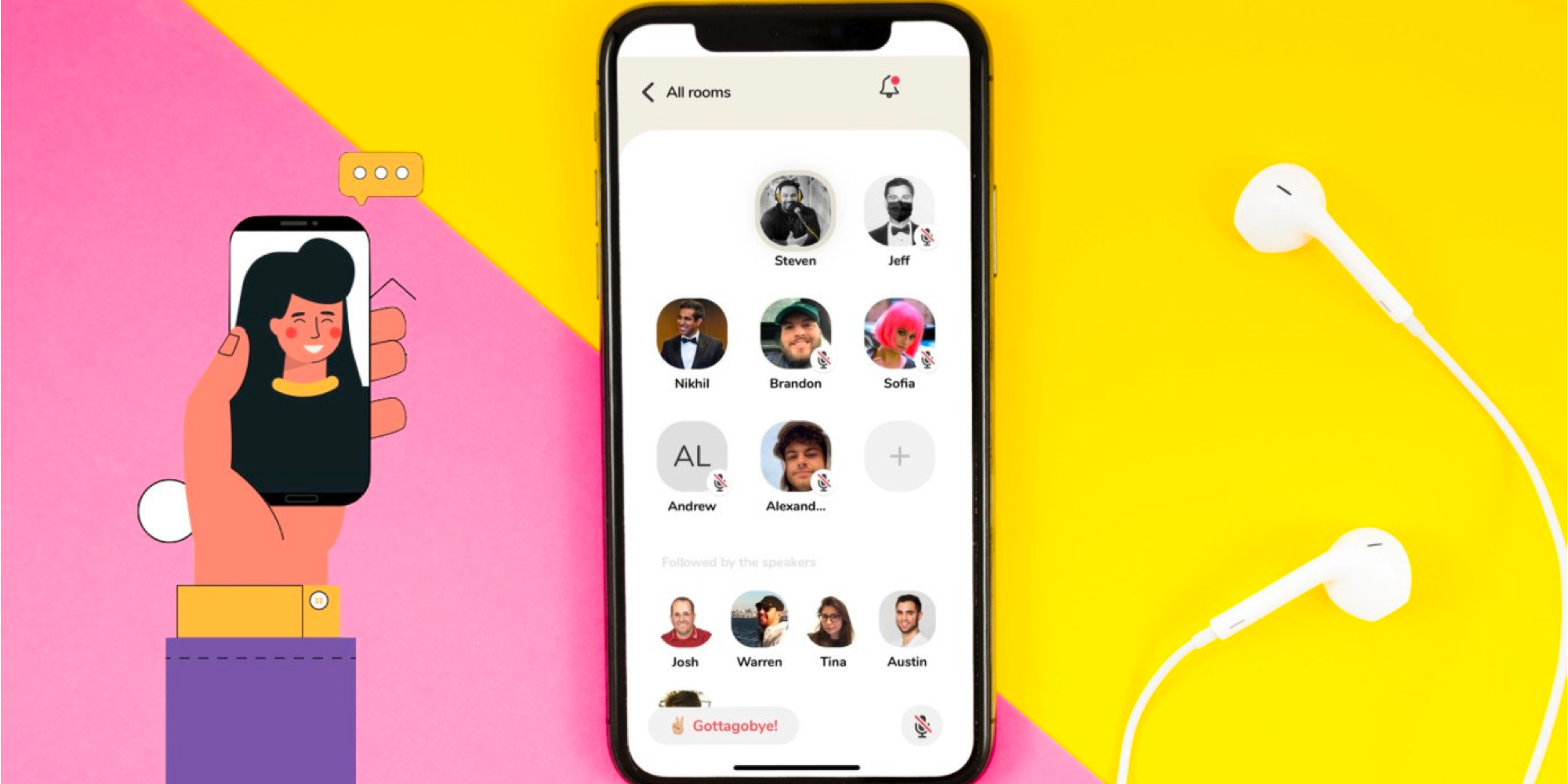 The gamble of betting on a great idea first and placing usability second
Early critics of Clubhouse have pointed out that the app's UX and UI still need significant work before mass adoption. The main problems people are reporting with the app include:
The list of curated discussion rooms appears to be random and poorly managed
The app pre-selects 50 people for you to follow, but doesn't mention that your content will be curated based on their feeds—meaning you need to manually unfollow and then refollow others to build a homepage that aligns with your interests
The app also does not take into account your language preferences, so if you follow somebody that speaks another language, you'll begin to see rooms primarily dedicated to that language as opposed to your native one (and it's difficult to tell which person you're following is having these effects on your newsfeed)
Information on user accounts is limited, offering the opportunity for fake accounts to pose as personalities
It is easy for users to create click-bait accounts, a reported problem with the current Clubhouse UX
The app is not built for accessibility—it's currently impossible for HOH and Deaf Users to participate
There's no privacy so everybody can see what room you're in at all times—presenting a barrier to blending personal and professional interests at the same time
There's no way to know if the people you're following have ever joined a room, so you could follow tons of people that never engage and thus do nothing to add value to your app experience
Many view Clubhouses' approach to their product launch as a gamble, particularly with such obvious UX and UI issues.
A good defence of these obvious flaws is to consider this early stage app launch as akin to a business' soft launch. The Clubhouse team have released their app to a select portion of their audience, are gathering feedback on the product, and constantly updating the app in the runup to mass adoption.
But Clubhouse is at an inflection point. Installs are rapidly decreasing, as shown by a 73% dip from February to March 2021 (9.6 million to 2.6 million).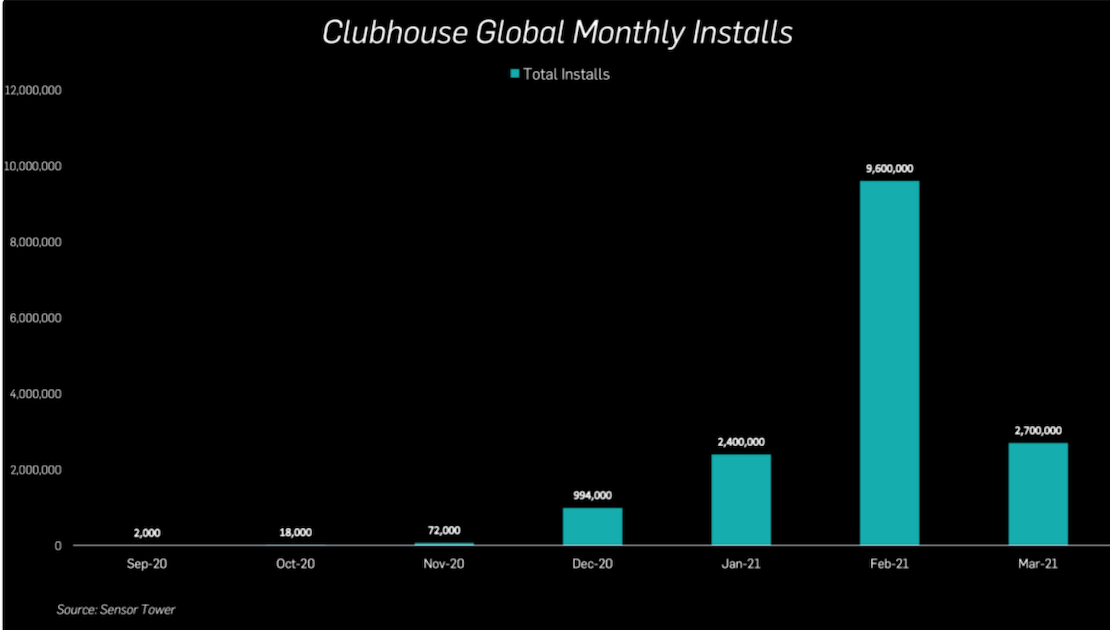 Once Clubhouse opens to the public, they'll need to start leveraging more traditional user acquisition techniques, as their exclusive peer-to-peer invite function is beginning to lose its potency.
In fact, they may already be on the road to transitioning from the exclusivity appeal to mass adoption. They recently created a notification system that asks Clubhouse members if they'd like to offer access to someone on the waitlist, which significantly shortens the time spent waiting to get in. This could be a sign that the 'waitlist' is an active issue they're trying to solve.
At the same time, the world is opening up again, meaning people won't have the same level of time or interest in listening to or talking with strangers in an app all day.
Additionally, given that 79% of U.S. adults have never even heard of Clubhouse, they'll need to move beyond word-of-mouth if they hope to achieve prolonged uptake and success.
Wrapping Up
Clubhouse is a shining example of:
How anticipation and hype are essential to an app marketing strategy
How powerful influencer marketing is
How successful an app can be with the correct value offering
How an early launch can be used to gain early-stage feedback while creating buzz around the product
How market research and capitalising on timely social trends can make or break the launch of an app
What remains to be seen is how the Clubhouse team moves forward from here.
Once the app goes public, the team will need to invest heavily in organic user acquisition, app store optimisation, and updating the app to ensure current users stay engaged and new users are met with the amazing experience they've been promised.