As a new app founder searching for inspiration on creating a successful brand, learning from behemoths like Netflix can offer valuable insight.
Founded by Marc Randolph and Reed Hastings in 1997, Netflix started as a DVD rental company and launched its video streaming service in 2007.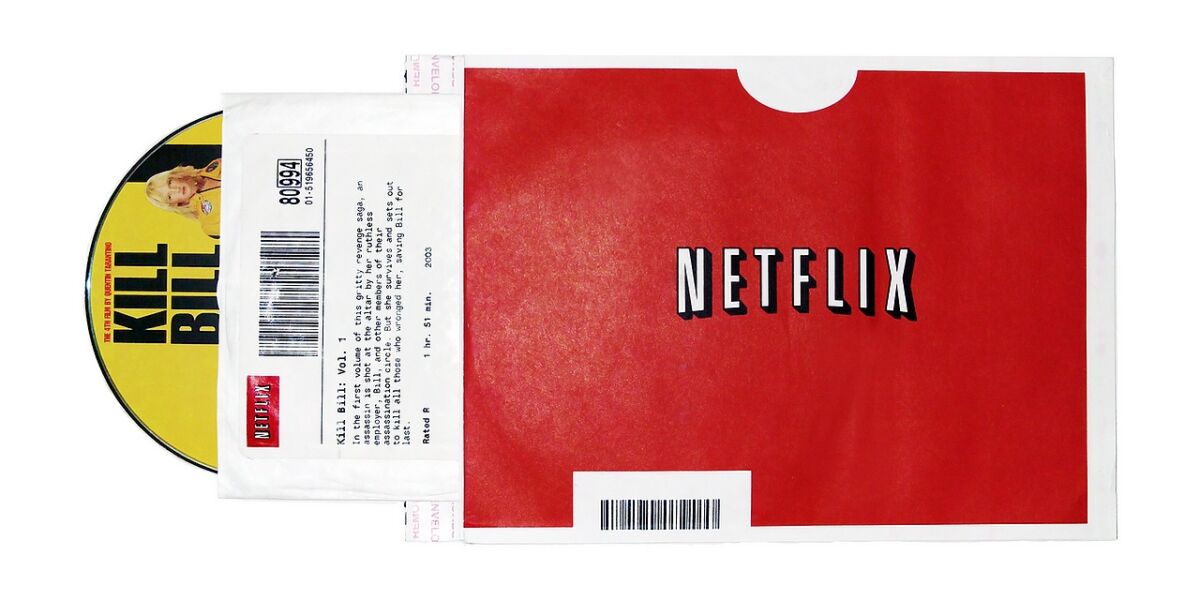 We currently know Netflix as a subscription-based video on demand site and as the most-valued media company in the world.
It has over 206 million paying users worldwide and boasts an enterprise valuation of $229.20 billion. In addition, the company claims 50% of the global original programming market, significantly outperforming its competitors, the likes of Amazon Prime Video, Disney +, Hulu, and HBO.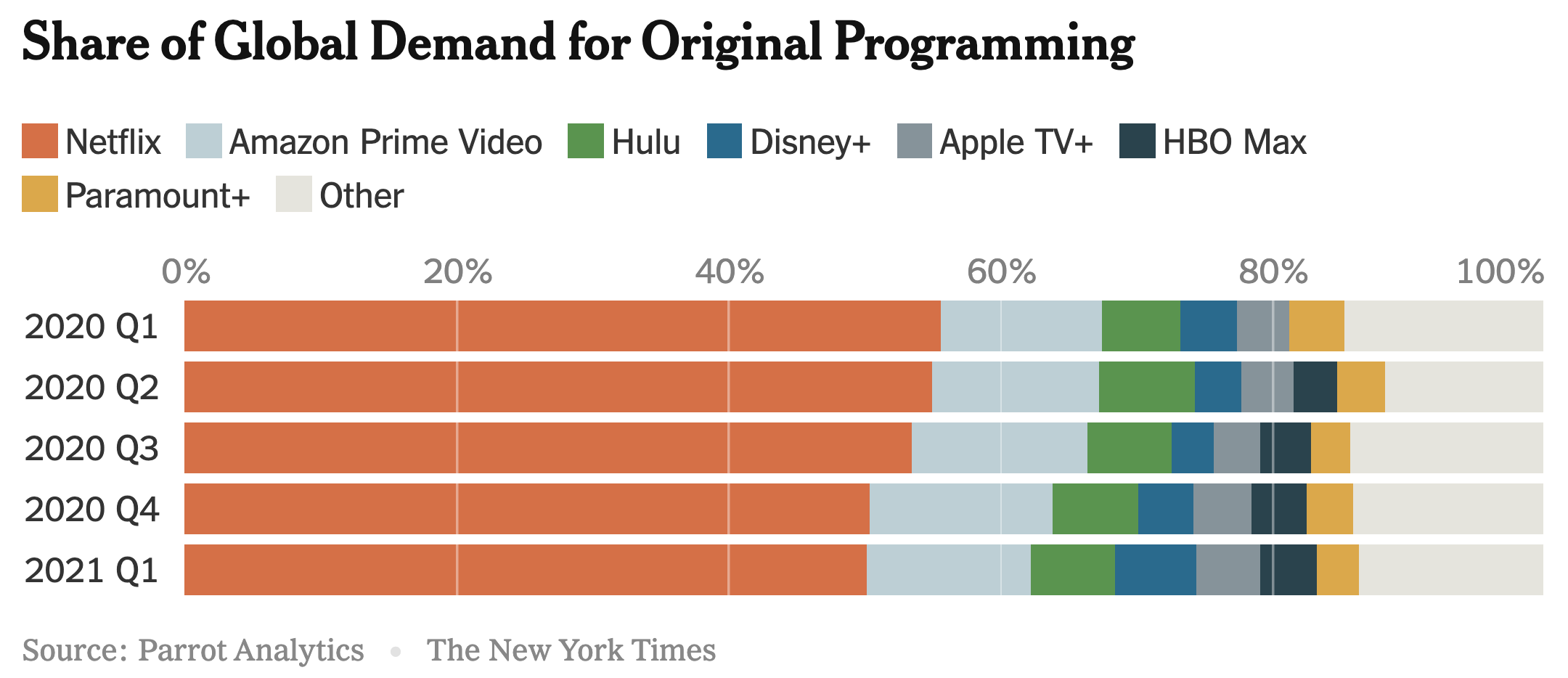 Perhaps more impressively, surveys show that 96% of UK Netflix subscribers plan to renew their subscription.
This article offers actionable lessons for aspiring app founders by considering Netflix's user retention success through the lens of three high-level factors: strategy, technology, and culture.
We also look at the technical nuances Netflix leverages that make the platform so moreish and engaging.
You'll learn:
How strategic timing was essential to Netflix's early adoption
How Netflix manages to be both commercial and niche at the same time
How a focused vision directly targeting consumer desires maximises user retention
About the algorithms and digital innovations used by Netflix
How the company culture of risk-taking sets Netflix apart from competitors and puts them ahead
Table of contents
The strategy: How did Netflix set itself apart?
The technology: What drives Netflix's competitive edge?
The culture: Why is industry disruption so influential?
The problems: What don't people like about Netflix?
Wrapping up
The strategy: How did Netflix set itself apart?
Successful app brands are those that identify a problem within their target audience and provide the solution.
Problem-solving
Back in 2005, before Netflix became a streaming site, co-founder and co-CEO Reed Hastings knew that consumers were struggling to quench their thirst for entertainment:
"The real problem we're trying to solve is, how do you transform selection so that consumers can find a steady stream of [entertainment] they love?"
This single statement revealed Netflix's core strategy. They were to set themselves apart from their competitors by offering customers a reliable, steady source of content according to their preferences. This made sure Netflix users stayed on-platform.
From the beginning, Netflix's user retention has been driven by problem-solving. This demonstrates the importance of using technology and culture to serve as a guiding ideal.
Make everything available
Before Netflix, consumers were restricted to DVD rentals, the likes of Blockbuster, or cable TV for at-home entertainment.
Neither cable nor Blockbuster could fulfil their audience's viewing demands due to availability limitations and scarcity of content. It's not economically viable for Blockbuster to purchase and stock obscure documentaries or neo-noir films that only a slim minority of their customers want.
This is where Netflix pounced.
By purchasing viewing rights to control the cost and distribution of content, Netflix could monetise back-catalogues of films, series, and documentaries previously unavailable to competitors.
A pivotal moment in Netflix's development was when they outbid AMC and HBO for the rights to House of Cards in 2011. By paying $100 million for two seasons of 13 episodes, they showed just how serious they were about being the world's top destination for streaming content.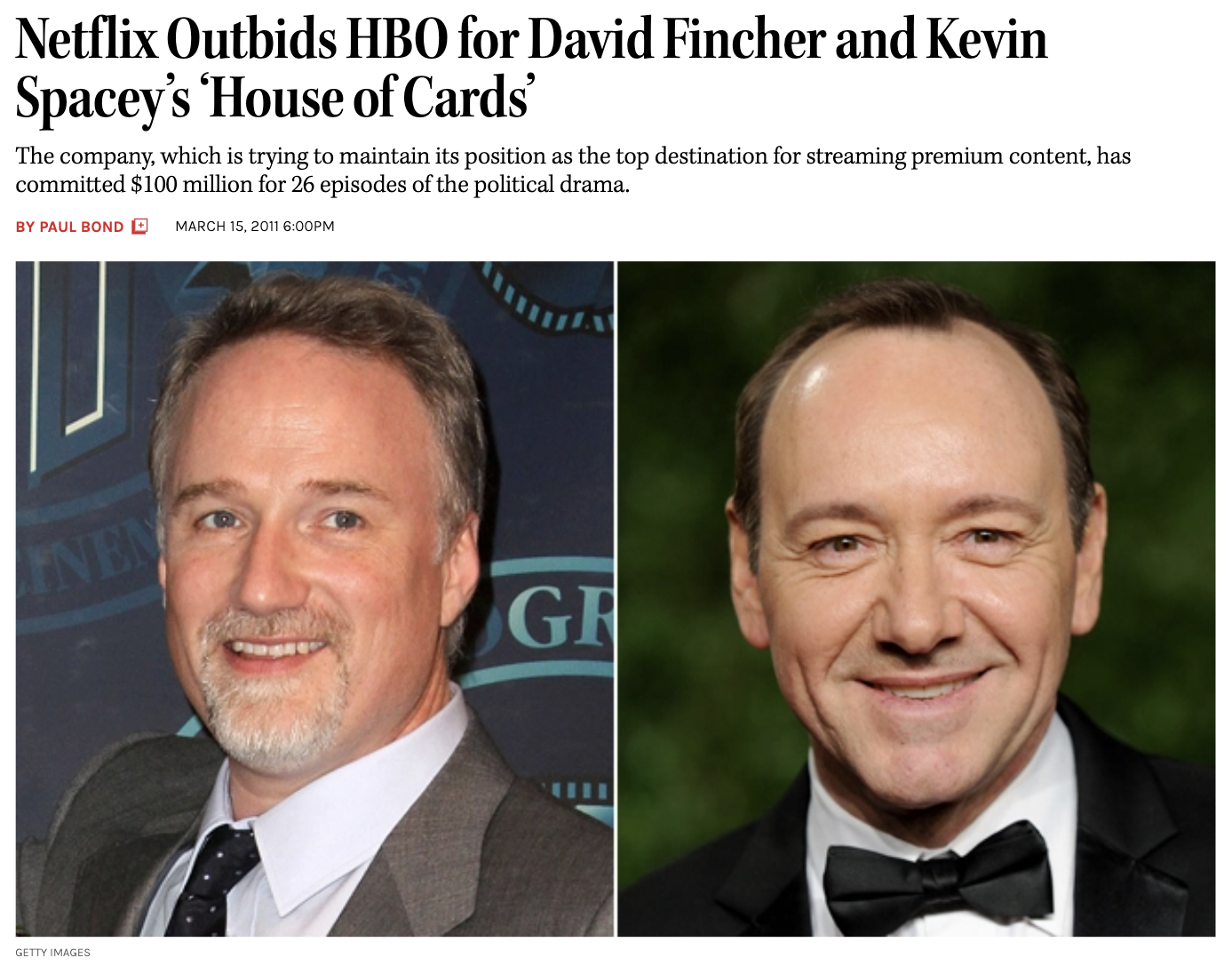 Netflix now offers users over 15,000 titles—something that outdated physical locations and other broadcasting routes couldn't achieve because of capacity.
By piggy-backing on the ecosystem of the internet, Netflix negates the necessity for owning expensive hardware such as broadcasting stations, cables, satellites, and physical storage locations.
This enables them to offer an underserved market of consumers the opportunity to find obscure yet attractive content. Netflix carries foreign films, cartoons, anime, small-budget documentaries, and much more, the likes of which traditional DVD channels can't financially support.
Personalisation to supplement commercial needs
Hastings has a knack for crystallising the Netflix strategy succinctly: "If the Starbucks secret is a smile when you get your latte, ours is that the Web site (sic) adapts to the individual's taste."
Each time a user lands on the Netflix homepage, they are presented with a selection of content tailored to their tastes. Netflix has used this strategy of leveraging personalised niche content to support commercially successful material.
By using AI and machine learning algorithms, Netflix offers users suggestions from their 15,000+ title library tailored to that user's preferences. This engages viewers with personal appeal, allowing Netflix to keep these users on-platform while showing them more commercially successful content.
The technology: What drives Netflix's competitive edge?
Yet again, Reed Hastings gives us a quote that reveals more of Netflix's approach:
"Stone Age. Bronze Age. Iron Age. We define entire epics of humanity by the technology they use."
As with all successful companies in the 21st century, data is the key to Netflix's success. It drives Netflix's technology and algorithms and fulfils its goal of offering consumers a one-stop-shop for all their entertainment needs.
Feedback
Traditionally, entertainment companies relied on third-party surveys to collect data on customer preferences and habits. However, while surveys are a valuable way of connecting with an audience, they are limited by:
Dispersal – getting surveys in front of relevant customers isn't easy
Participation – many people are reluctant to engage in surveys unless incentivised
Analysis – sifting through volumes of surveys is intensive and time-consuming
Netflix makes surveys visually engaging and simple in order to gather the information they need to personalise a users content feed: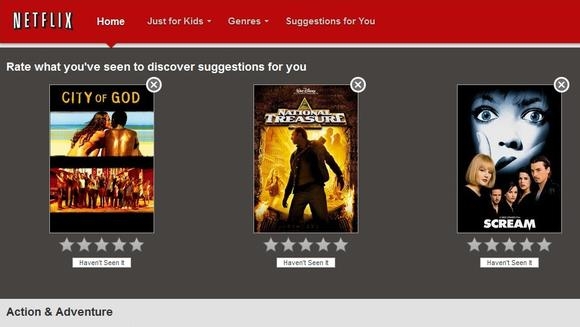 Moreover, Netflix leverages data mining.
Data mining
Data mining monitors behaviour in real-time, without any cognitive barriers clouding the results of how users interact with a platform. For example, Netflix collects real-time data points like:
Viewing time – what time of day a customer uses their account
Viewing duration – how long a customer's session lasts
Viewing habits – how a customer engages with the platform

Do they binge-watch an entire series over 48 hours?
Do they watch a single episode once a night or once a week?
Do they switch between series?
Do they watch a movie first, then watch a series?

Viewing preferences – monitoring the genres and types of content preferred by a particular customer
CineMatch
Netflix's initial recommendation algorithm was called CineMatch. The algorithm could successfully predict movies that users would like with a half-star rating accuracy 75% of the time.
50% of movies recommended to Netflix users by the CineMatch algorithm received five-star ratings.
This was good—but had room for improvement.
In 2006, Netflix began a public contest offering $1 million to the first person or team to create a recommendation algorithm that outperformed CineMatch. Netflix provided 100 million film ratings ranging from one to five stars from anonymous customers as the test data for the algorithm engineers to follow.
In 2009, Bellkor's Pragmatic Chaos, a seven-member team, submitted its winning algorithm, which improved recommendation accuracy by 10%.
The algorithm uses more than 5 billion movie ratings to match movies with one another. It profiles your preferences according to your ratings and viewing behaviour and compares these with the conduct of similar users and what they enjoyed.
Netflix has continued to improve its recommendation algorithms, and as the platform grows to over 200 million users, only more data will be collected. More data and more sophisticated algorithms, with more exclusive content, means Netflix will only get more successful at retaining their customers.
The culture: Why is industry disruption so influential?
The way Spotify changed the way we listen to music, Netflix revolutionised the film entertainment industry.
Not only has the brand made DVDs redundant, but it is shaping both what people watch and their viewing preferences.
Netflix's digital transformation pivot from DVD lending to online streaming was the beginning of its value proposition as we know it today. They were a company that was willing to take necessary risks to achieve its goal of offering users an unlimited stream of personalised content.
Growth-focused
Notably, Netflix embraces a simple but well-understood logic: growth stimulates more growth.
It's a cycle of creating more content that attracts more, increasingly diverse users (while also encouraging existing users to watch more Netflix content). The more people spend longer periods on Netflix, the more data the platform collects, allowing it to refine its recommendations and further increase user retention perpetually.
As Ted Sarandos, the chief content officer of Netflix puts it:
"More shows, more watching; more watching, more subs; more subs, more revenue; more revenue, more content."
But with this level of growth comes an almost unprecedented level of scale and management. The amount of programming and decisions that go into managing Netflix's most prominent divisions—script-development, international, unscripted, documentary, and stand-up comedy—is far too much for a centralised executive team to handle.
Decentralised and autonomous management
To facilitate the growth and scale Netflix requires, executives have the power to give new projects the go-ahead without consulting the highest members of management.
This means agents representing new shows or those who want to bring an idea to Netflix can approach 10-15 executives from different divisions (who have the authority to allocate budget) to bring the show, documentary, series, or film to life.
In this way, the subdivisions of Netflix almost act as independent companies when it comes to their development and production pipelines. The content these divisions produce is then distributed under the Netflix umbrella service.
Industry disruption
From the beginning, Netflix has been breaking industry standards. As a DVD rental service in the early 2000s, abolishing late return fees set them well apart from their competitor, Blockbuster.
From there, they pivoted from DVD lending to streaming, and now are producing their own content—all fresh ideas in the entertainment industry.
Sarandos attributes Netflix's domination in the streaming entertainment industry to having "built a team that's oriented to say 'Yes' in a town that's built to say 'No'."
Understandably, other production companies say "No" in an industry where $5-$7 million per hour of high-end production is the average cost for a TV series. But where other streaming services have focused on being highly selective and only budgeting for specific shows, Netflix has shown that saying "Yes" is the best way to attract a diverse and large customer base.
In 2021, Netflix has pledged to spend over $17 billion on creating new exclusive content. This type of attitude puts Netflix in place to create their own unique shows and gives them first dibs on the intellectual property of others.
Having a reputation for saying "Yes" means directors and scriptwriters are likely to approach Netflix before any other company, as was the case with Ricky Gervais striking a deal with Netflix for his comedy-drama series "After Life".
What's more, Netflix has demonstrated how effective creating and sharing material from foreign countries can be.
It was originally thought that foreign films appealed only to a small, unprofitable portion of customers. But considering these viewing statistics of non-English language Netflix originals, Netflix yet again shows the effectiveness of breaking the mould:
| Title | Country | Number of views (User watch 70% of the movie/series) |
| --- | --- | --- |
| Lupin | French | 70 million |
| Money Heist | Spanish | 65 million |
| The Platform | Portuguese | 56 million |
| Who Killed Sara? | Spanish-Mexico | 55 million |
| Below Zero | Spanish | 47 million |
| Barbarians | German | 37 million |
| Lost Bullet | French | 37 million |
| Dark Desire | Spanish | 35 million |
| Squared Love | Polish | 31 million |
| The White Tiger | Hindi/English | 27 million |
The problems: What don't people like about Netflix?
While Netflix still dominates the streaming industry, competitors are slowly beginning to cut into Netflix's share of viewership. In Q1 2019, Parrot reported that Netflix had a 65% share of total demand (down to 50% as of Q1 2021).
This regression in Netflix prominence could be attributed to:
Perceived inappropriate suggestions
Quality of minority content
Availability of content
Ethnic targeting
Keeping a service personalised while addressing societal movements poses a conflict of interest at the individual customer level.
When an entertainment service strives to offer customers highly personalised content, straying from that value proposition easily disenchants users. Precisely this is happening amongst Netflix subscribers in light of current societal issues influencing content suggestions.
Movements such as the Black Lives Matter protests throughout America and Europe in 2020 and surges in support for LGBTQ communities worldwide show how race, gender, and class issues are at the forefront of society.
But in confronting and addressing these movements, Netflix received criticism from viewers of all demographics.
Netflix faced heavy critical backlash when black users felt they were being targeted based on ethnicity. This resulted from posters of films being modified to feature black and ethnic actors instead of white characters.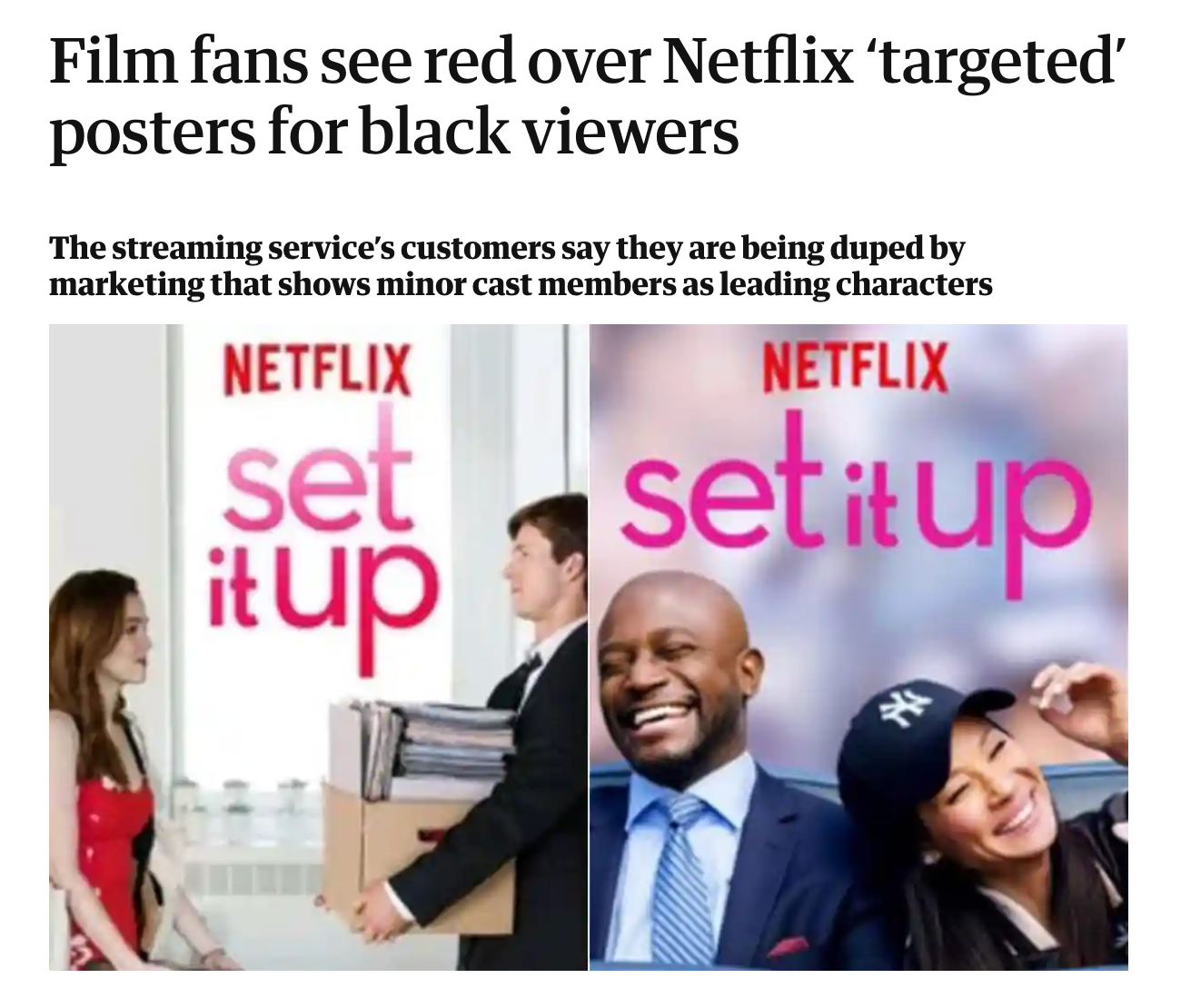 Minority content
In tune with offering content for as diverse an audience as possible, Netflix has invested heavily in content that features diverse actors. The problem lies in who these shows are being recommended to and their quality.


Users report that the Netflix algorithm is completely missing their preferences or preferentially suggesting content so the service looks good in the media.
Creating diverse and minority content that receives unsatisfactory critical acclaim also puts Netflix in the firing line. According to viewers' perceptions, they're not investing as heavily in these types of content as others.
Content availability
Furthermore, many popular movies and shows are available on Netflix in one country but not another.
For instance, those seeking to watch some of Daniel Craig's James Bond films will need to be based in America or use a US virtual private network (VPN) service.
This country-exclusivity comes down to studios enforcing copyright by country. Because copyright deals are country-specific, Netflix might pay the rights for one or several countries, but not others, to save costs.
This goes against Netflix's overall approach of offering as much content as possible to everyone. Yet, cost does need to be considered (they are a business, after all).
Avoiding country-specific copyright laws is a prominent reason compelling Netflix to invest heavily in producing its own content. This will allow them to show viewers in all countries new material without paying copyright on a per-country basis.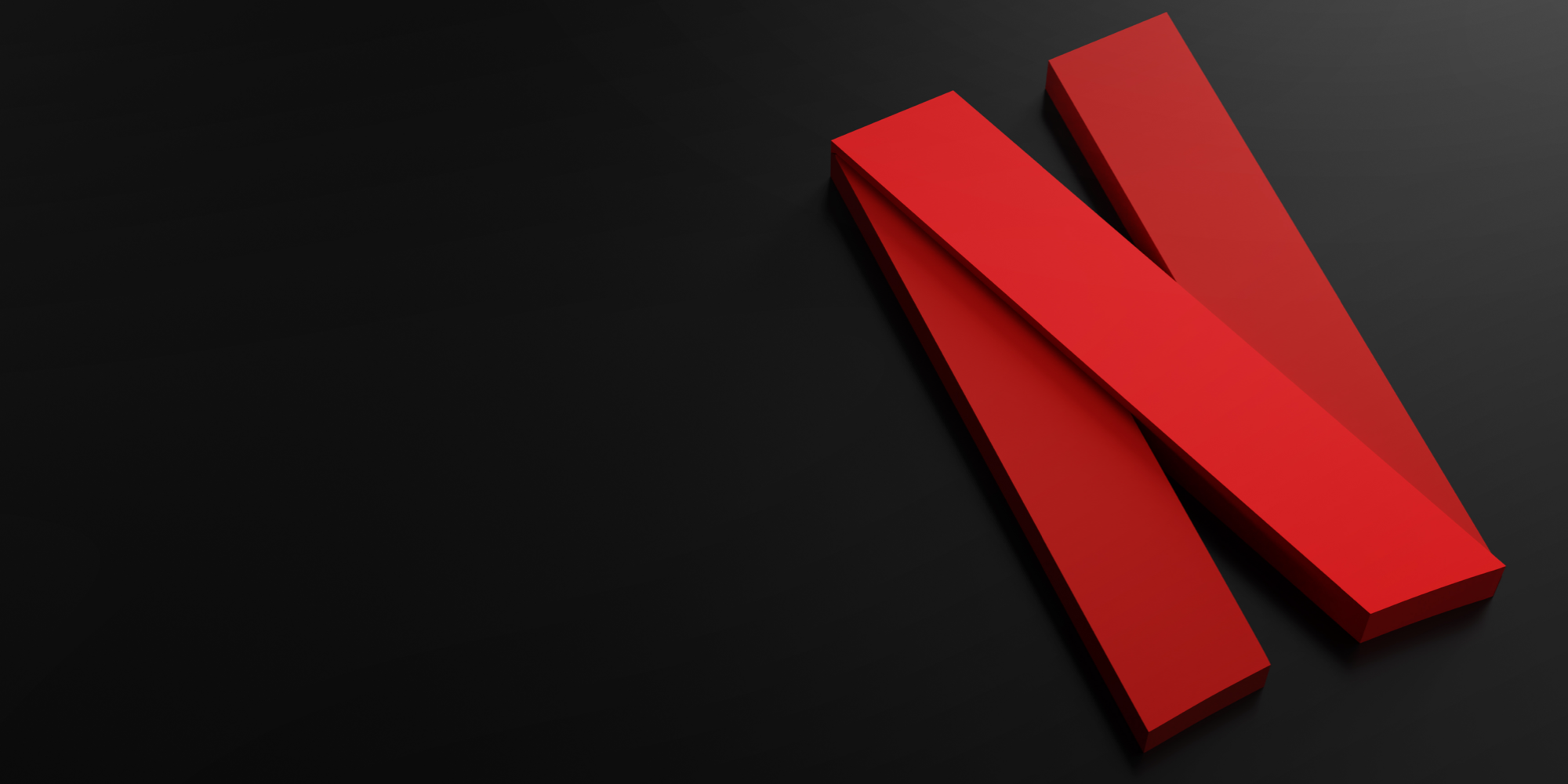 Wrapping up
As an app founder seeking inspiration from established brands, Netflix offers several valuable takeaway messages:
Formulate your strategy around solving a problem. Doing this sets your audience at the core of your business and ensures your company always serves your customers.
Use data to implement your strategy. The power of user data can not be understated in our digital age. Even if you're not using data to assess your audience, your most successful competitors will be. Collect audience data and use it to your advantage.
Stay ahead of the game. This is easier said than done, but doing something new sets you apart.
Be willing to take risks and go against the grain. Calculated changes in the status quo have enabled Netflix to outcompete other entertainment industry leaders. Adopt a mindset of non-complacency, and your company might do the same.