With 218 billion app downloads globally each year, mobile apps are projected to generate $685billion in revenue in 2021.
As an early-stage app startup founder, claiming your share of the lucrative mobile app market depends on enlisting an app developer's services who can take your vision and turn it into a profitable reality.
But how do you find the right app developer for your startup? How do you maximise your chances of bringing your app concept to reality?
By and large, app startup founders can choose between an in-house hire, a freelancer, or an agency. Which option best suits you depends on your unique project requirements.
In this article, you'll discover your options for hiring an app developer, what skills your app developer will need, where to search for experienced developers, and how to evaluate potential developers so your app can enjoy long term success.
Table of Contents:
To outsource or not to outsource: Understanding your options for hiring an app developer
The problem with freelance sites
Finding the right developer for you
Where to find an app developer you can trust
How to evaluate potential app developers and agencies
Wrapping up
To outsource or not to outsource: Understanding your options for hiring an app developer
Most startup founders have an idea of what they want to build. The first challenge they come across is how they're going to bring this idea to life within the budget they have.
The good news is, there are plenty of places to find the right app developer for your startup.
In general, there are three main options to choose from:
Hire in-house
Use the services of an app development agency
Work with a freelancer
Each option has its own benefits and drawbacks. How suitable each one is for your startup depends on your particular goals and project specifications.
Let's explore each choice in a bit more detail.
Hire in-house
If you've got time and a big enough budget, hiring in-house gives you the most control over your app development resources.
Employing a full-time app developer gives you the freedom to choose someone who embodies your company's culture. By working as part of your team, an in-house app developer will gain a deep appreciation of your vision and be personally invested in the project—from ideation to launch to versioning and beyond.
The primary downside to this option is that it's the most costly, both in time and money.
For example, the average base salary for a mid-career app developer in Germany is just shy of $70.5k: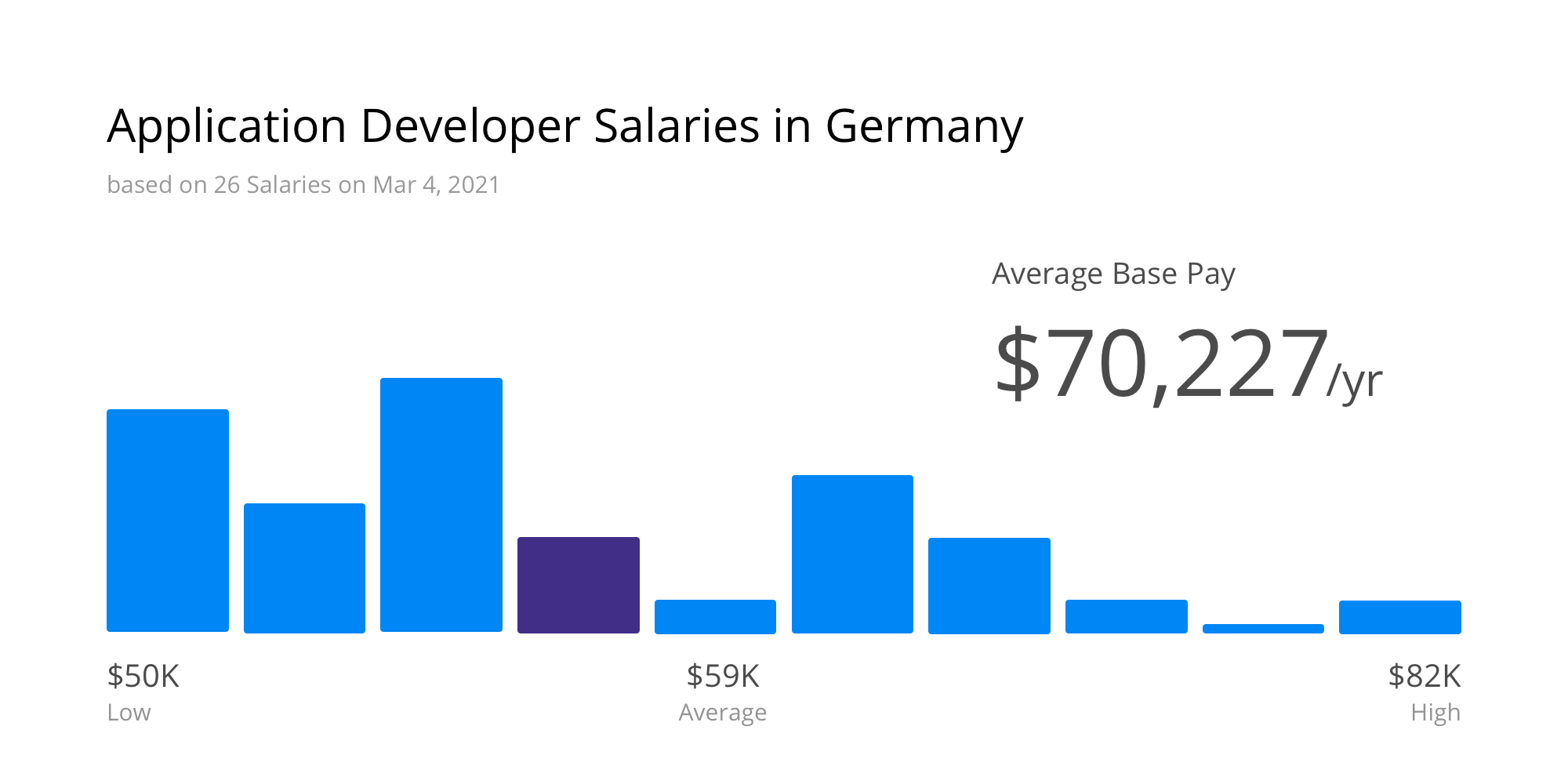 Source: Glassdoor
And remember, this is just base salary. It doesn't include benefits, overtime, insurance, taxes, or any other overheads that come with a full-time hire.
For example, looking at app developer salaries in New York, the average base pay is just over $77k/year, but the average additional cash compensation ranges from $1,505 - $17,692, depending.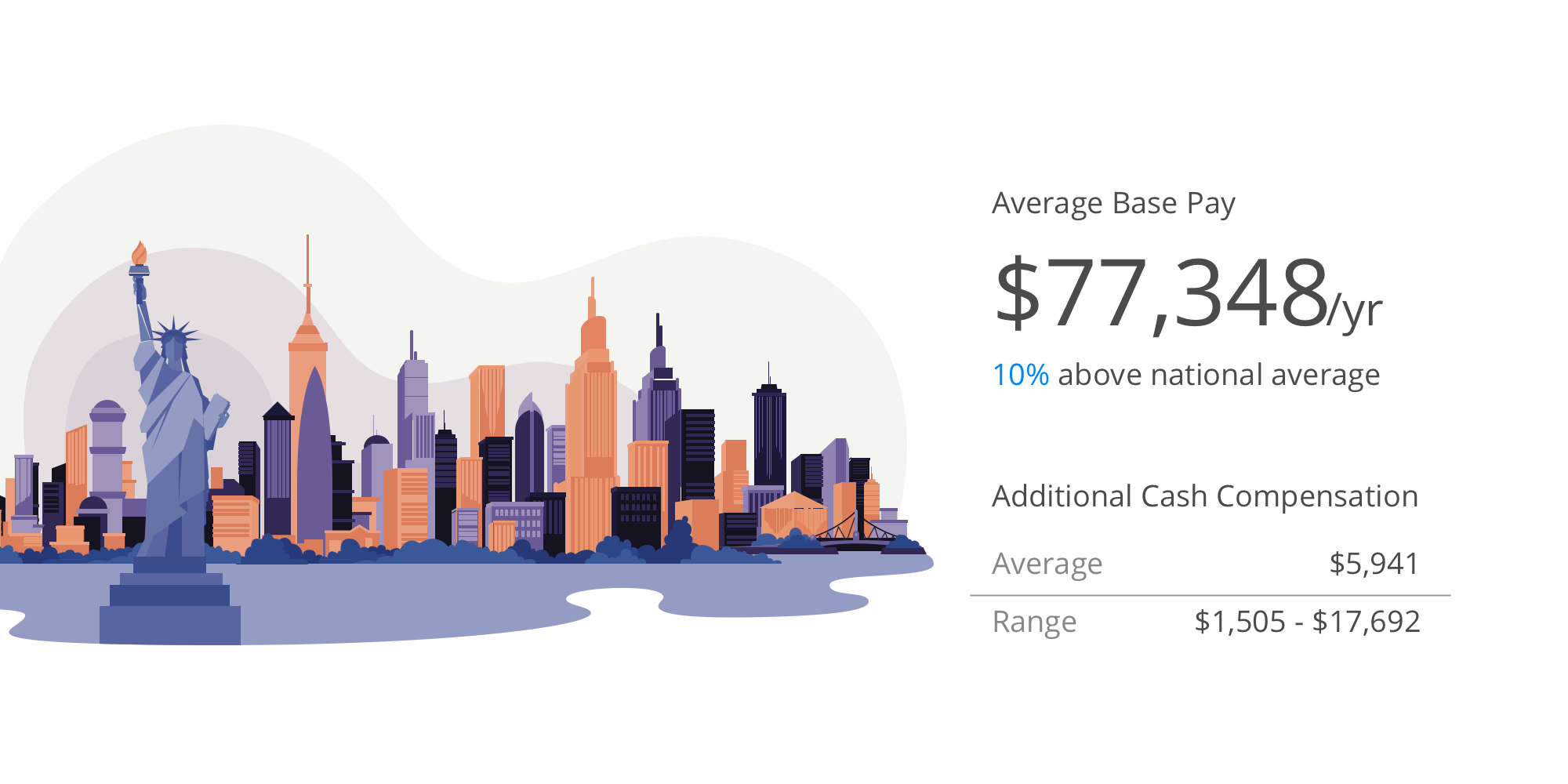 Source: Glassdoor
The hiring process also takes a staggering amount of time. From creating an attractive job description to vetting applicants, making a shortlist of candidates, and conducting rounds of interviews, it can be months before you find the right in-house hire.
If you feel confident that you've got the money and are willing to make the investment, an in-house hire might be the way to go. That said, the risk-reward for startups hiring in-house is quite high.
It makes sense that in-house hires are the preferred method for startups who have product-market fit, have raised a significant round of funding, or are looking to aggressively iterate their mobile app. But startups that are looking to grow while keeping a close eye on their cash flow need to proceed with caution.
That's why if you don't have tens of thousands of dollars and several months to spare, you might consider working with an app development agency or freelancer instead.
Work with a freelancer
As an early-stage app startup, the main attraction of hiring a freelance app developer is the low initial cost. That said, visualise this entire section with a giant warning label stamped over it that reads "proceed with caution".
Without needing to worry about a contract, taxes, office space, and equipment, hiring a freelancer can be a cheap and viable option. It's also easier than ever before. There are tons of freelance sites full of capable app developers ready for gig work.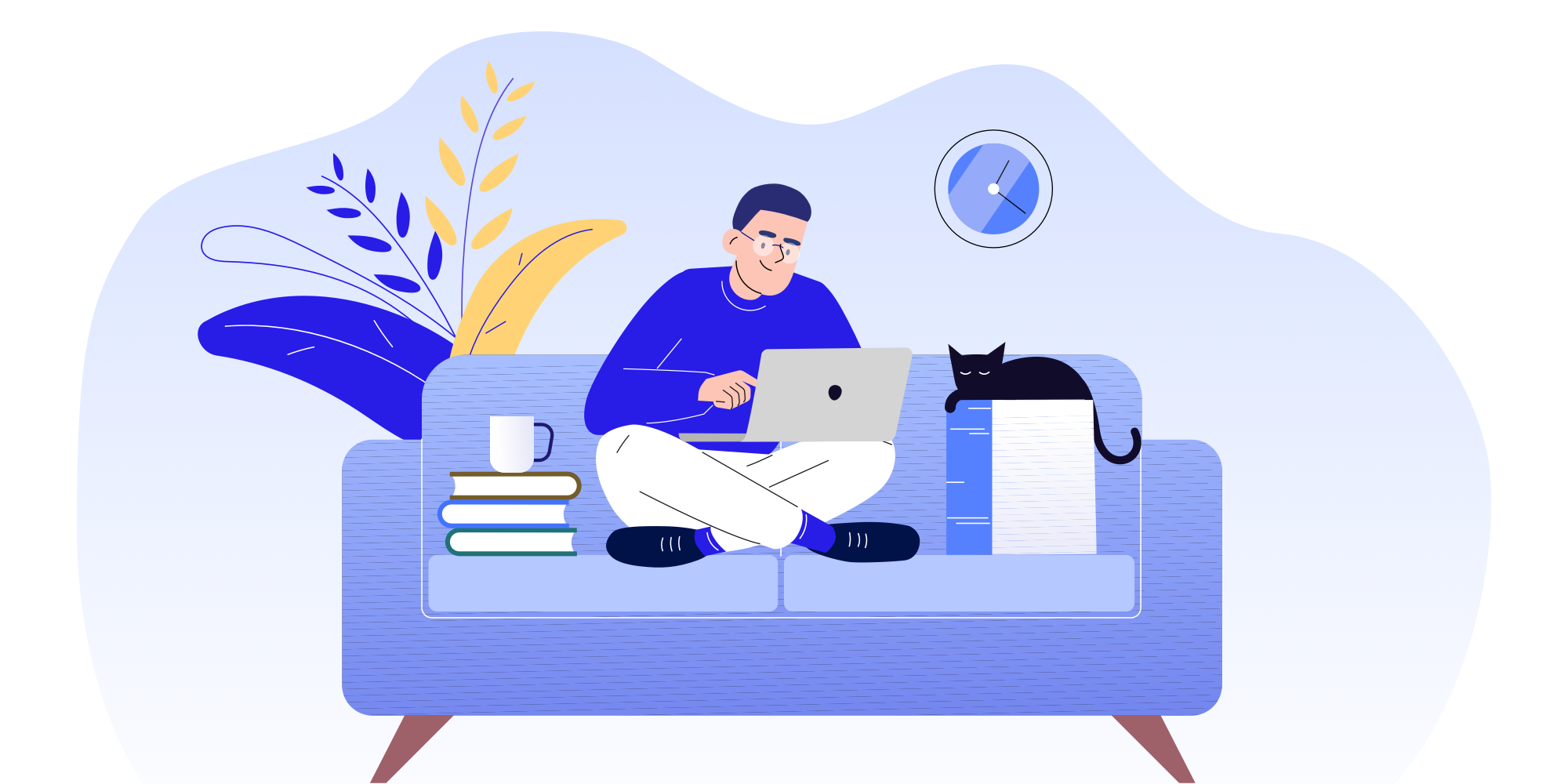 But just because something is easy and cheap does not mean it's the right option for you. Why? Because hiring a freelance app developer means you have zero quality control, and almost zero recourse should the freelancer fail to deliver on your agreement.
Not to mention, you don't always get what it says on the tin. So while the freelancer option may appear to be the cheapest app development route, in many cases, it can turn out to be a very costly process that results in sub-standard work.
We'll dive into what we see as the problems with freelance sites in more detail in the next section.
Work with an app development agency
Many early-stage app startups face similar initial hurdles, such as:
Budget constraints
Talent gaps
Tight deadlines
Lack of clarity
Working with a reputable app development agency addresses each of these issues head-on. An app development agency offers your startup an ideal balance between your investment, the quality of work delivered, and the expert guidance you're looking for.
App development agencies have skilled, experienced professionals for every stage of your app development process: From idea evaluation to business consulting and analysis, monetisation strategy, and project management—app development agencies cover all the bases.
And the good news is these services come much cheaper than an in-house hire in the long run. You don't need to pay for employee insurance and time off. Rather, you only need to account for the services you agree on with your chosen partner.
The problem with freelance sites
While freelance sites might be the cheapest option available to you, it also poses the most risks.
In a bid to secure your job, some freelancers may embellish their skillset and agree to tight deadlines that they can't realistically stick to.
Freelance platforms such as Toptal, Upwork, and Clutch do offer testimonials and rating systems. However, the quality of a high rating score or glowing testimonial is only as valuable as the person that writes it.
Of course, a low-skilled freelancer could perform excellent work for a low-paying client. But if you have expert needs requiring years of experience, that testimonial doesn't hold any weight.
This is not to say that there isn't scope for freelance app developers. Many freelancers are honest and hardworking and do bring serious skills for relatively low-cost. For projects with a low budget and a minimally complex app goal, a freelancer can be an ideal choice.
It falls to you as a founder to perform due diligence and research and evaluate all available options before making a decision.
No matter what route you choose, in order to find the right app developer for your project, you first need to know what you're looking for, and where to look.
Finding the right app developer for you
The right app developer for your startup depends entirely on your needs. That said, knowing exactly what your startup goals and limitations are might not be as easy as it sounds.
In fact, research has shown that 47% of all unsuccessful projects failed to achieve their goals due to poor requirements management.
This is most likely because the startup-world is busy and demanding. Startup owners are often juggling multiple tasks at once, sodevoting time and energy to a project specifications document on your own may present a challenge.
That's where an app development agency's experience and expertise comes into play. They can audit your goals and reverse engineer a project specifications document for you—offering solutions and opportunities based on years of experience and industry-specific knowledge.
With this in mind, correctly identifying and prioritising your project specifications is the first step towards producing a high-quality, user-friendly app.
This is why establishing clear direction from the outset before beginning your app developer search is key. One way to do this is to create a project specifications document.
Project specifications document
Whether on your own or with the help of an agency, creating a project specifications document is an important first step. It allows you to reflect on and clarify what is required to bring your app idea to life.
Things to take into account include:
Your project goals
The purpose of your app
Identifying your intended audience
Market competitors and models
Product features
Operating environment
Programming languages
User roles and rights
User documents
User interface
Hardware and software interfaces
Functionality requirements
Your budget and deadlines
Your experience and in-house skills
Scalability and future scope of your startup
Explicitly identifying each of these project requirements gives you a clear idea of where you are headed. It also provides you with a set of requirements and skills your app developer or agency partner needs to bring your idea to life.
Once you know the type of app developer you are looking for, you can begin your search in earnest. Which brings us to our next point: where can you find an app developer you can trust?
Where to find an app developer you can trust
From professional communities, personal network referrals, agencies, and freelance sites, there are plenty of places to begin your search.
Let's explore each one in more detail.
Professional communities
A professional community is just that—a collection of like-minded professionals sharing their knowledge and helping one another improve their trade. Popular professional app developer communities include:
Women Who Code
Space
GitHub Jobs
Hashnode
LinkedIn
The beauty of these communities is their interconnectedness and information-sharing standards. Plus, if you opt for an app developer from a professional community, they've most likely been vetted by those that run the community, which gives more weight to their presented qualifications.
On its face, hiring an app developer from a professional community is similar to using a freelance site. However, as a member of an international organisation, app developers from professional communities tend to bring more accountability to the table than your standard freelancer.
Accountability is a rare quality among freelance app developers. While app development agencies offer the highest level of accountability possible, you may find a dependable app developer by asking your professional network for reliable recommendations.
Personal network
If you're a startup looking for an app developer, chances are you're familiar with someone who has successfully used an app developer for a similar project.
Reaching out to your network for recommendations and reviews is a great way to find an app developer who meets your requirements.
But remember, simply because an app developer worked for them, doesn't necessarily mean they'll be the right fit for you.
Be sure to take any recommendations at face value and do your own research before making any hiring decisions. Digging into testimonials, looking for validated social proof, and even talking to past clients are excellent ideas before you commit to somebody.
This is where reputable app development agencies stand out from other hiring options. Any agency worth working with will have an extensive client portfolio and testimonial evidence to back up their work.
High-quality agency partners
As an early-stage app startup, there are several crucial elements you should look for in your app developer:
Professionalism
Reliability
Accountability
Affordability
Working with a reputable app development agency ticks each of these boxes.
Knowing the app development industry inside-out, and being able to prove this with a verified client track record, is what makes hiring an agency to develop your app the safest and most cost-effective option. But having said this, you still need to make sure the agency you choose is up to scratch.
Agencies like Work In Progress understand every step of the app development process, from ideation to building to iteration and beyond.
Great agencies also understand the need to embed themselves into your team. This way, they can take the necessary time to strategise with you on important deliverables, such as:
App branding. For example, do you want to create branding assets on your own, or are you happy to have an agency design illustrations on your behalf? While some agencies are limited to code, many can also create mouth-watering illustrations (like what we at Work in Progress created for Sticker YO!).
Technology preferences. There's often a debate among developers that centres on affordability, database support, and infrastructure. You need somebody to explain the core technology differences to you and offer data-driven insights into why they believe one is best suited for your needs over another.
User experience (UX) goals. Many app founders want a product that will not only provide a beautiful experience, but improve the lives of consumers. In order to do that, an agency will work with you to uncover your audience's needs and make UX recommendations based on industry standards and development expertise.
Minimum viable product (MVP) expectations. What are your main considerations? Is it to validate and measure user acquisition in order to raise capital? Or do you care more about proof of concept and worrying about user retention down the line? An agency can work through these needs with you and come up with an aligned plan.
Future version needs. Oftentimes, getting a first version to market is only the beginning of your app development process. The next steps are figuring out what is and isn't working, building out new features, and consistently optimising the UX and UI. Agencies often offer long-term partnerships for those who need it. This helps to simplify your growth plan and adds a layer of security to your development needs.
If need be, agencies can also reverse engineer other successful apps in your niche and identify user behaviour to emulate for maximum user engagement.
Most importantly, agencies have the staff and know-how to offer these services to you in a one-shop solution. While there are many highly skilled freelancers out there, no single individual has the capacity for all of these skills, which is one of the main downfalls of using a freelance app developer.
Here are some considerations to help you assess potential app developers and agencies.
How to evaluate potential app developers and agencies
Once you've found potential app developers, it's time to evaluate your options.
Start with their client portfolio. Download the apps they've built and play with them. Get an idea of the quality and complexity of their final product to gauge their expertise.
Ask yourself:
Is this app built well (e.g. are there any bugs, inconsistencies, etc.)?
Is the branding consistent with the business's other publicly available assets, if available (e.g. website, social media pages, etc.)?
What's the user experience like? When navigating from tab to tab, is it smooth or counter-intuitive?
Does it match, exceed, or fall below the industry standard for similar apps in the space?
Is it built in a way that will add value to a user's life on a daily basis? Or does it seem like you'd only want or need to use it sparingly?
Now that you have a good idea of the kind of apps they've built in the past, you can then take a long hard look at specific skills. Freelancers will likely include their certifications and skills in their profiles, and agencies will have a page on their website devoted to their past projects.
Refer back to your project specification document and cross-check the skills you need with the expertise on offer.
Some key skills to look out for include:
Cross-platform capabilities
Cloud infrastructure
Modern coding languages (HTML5, Objective-C, Swift, C++, C#, Java)
Quality assurance and control
UI/UX
Finally, as you get closer to making your decision, it's a great idea to cross-check testimonials. You can substantiate them by reaching out to past customers through LinkedIn or their website, and ask them directly what their experience was like working with that app developer.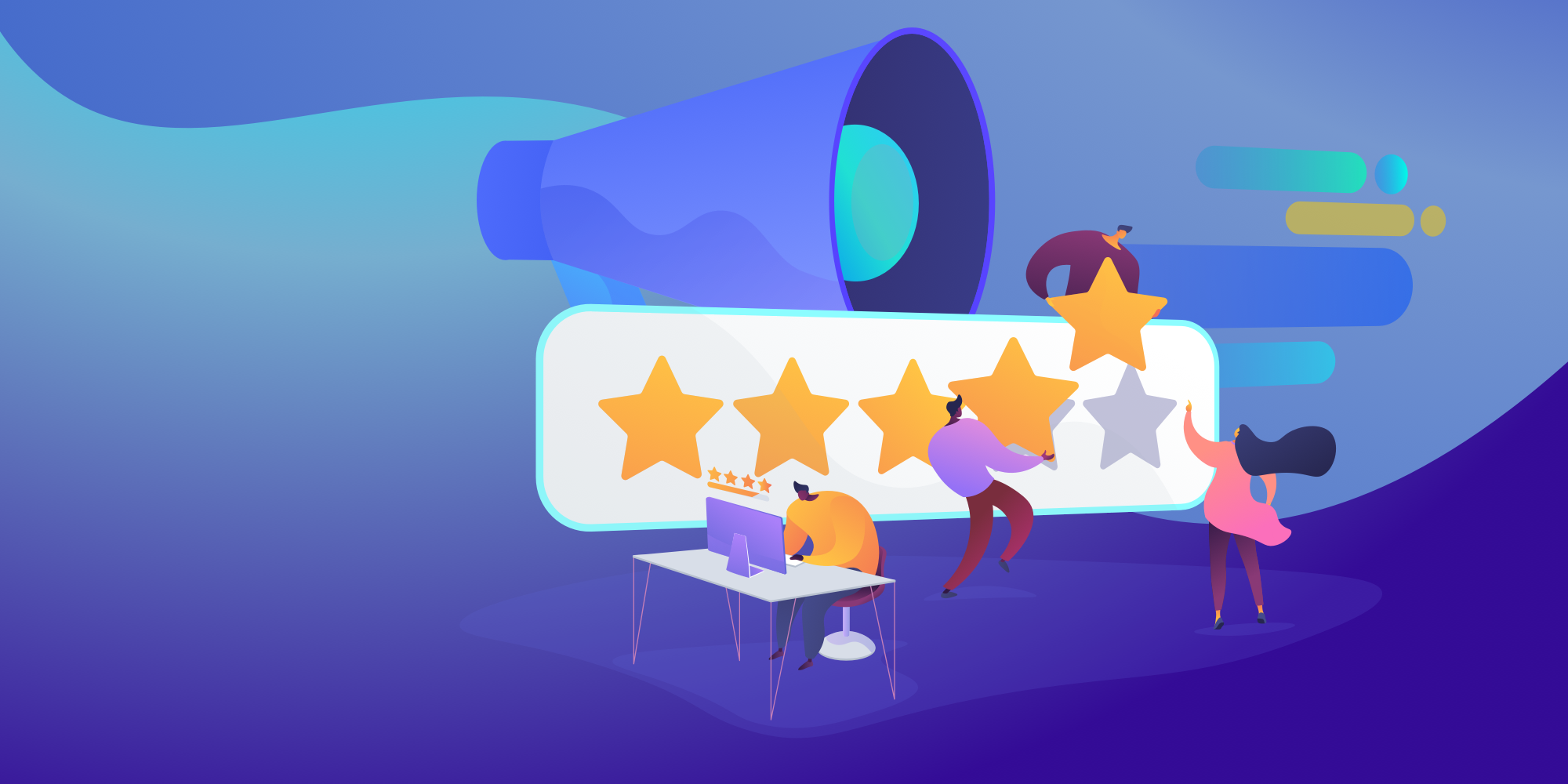 How we helped an app startup build their ideal product
Integration, rapid communication, transparency, and the ability to form long-term partnerships are excellent characteristics to look out for in an app developer. Incidentally, that's precisely how past clients have described working with Work in Progress.
For example, one of our clients had a complex project scope that involved building out their first offline version. Our team took the time to understand their project needs by meeting with their top mathematician on board. Because we devoted the time to truly dig into their needs and complexities from the outset, we were able to quickly come up with a workable solution.
Now, that same client is on version 5 of the app and is still working with us. We've happily embedded ourselves into their team and are consistently there to meet their app development needs.
If you're happy with your potential app developer's work and testimonials, arrange a no-obligation discovery call to learn more about their process and offer.
Wrapping up
Finding the right app developer is vital to bringing your app to life. For app startup founders, entrusting the app development process to a capable professional is a daunting task.
Don't rush into anything. Take the time to clarify your project needs, consider viable options, create a shortlist, and research your potential app developers.
To learn how we at Work in Progress can help bring your app to market, book a call with a member of our highly-experienced team.