You've hatched an idea for a mobile app and successfully built a final product that aligns with your goals. Now, you're sitting on an app that's ready for market and need to get it in the hands of your target audience.
If this feels like a mammoth task, you're not alone. The founders of the 1.85+ million apps on the iOS App Store, and 2.56 million+ on Android Google Play have the same problem—attracting and acquiring users to their app.
So, how do you stand out from the crowd and incentivize your target audience to download, use and share your app?
The answer: a user acquisition strategy.
Here, we'll take a look at the principles that drive app user acquisition and what a good user acquisition strategy looks like. We'll also examine five practical acquisition channels that you can use to attract more users to your mobile app in 2021.
Table of contents
User acquisition principles that drive downloads
Developing and optimising a user acquisition strategy
5 user acquisition channels for 2021
Wrapping up
User acquisition principles that drive downloads
User acquisition (UA) simply means getting more people to download and use your app. Four fundamental principles guide the development of any successful user acquisition strategy:
Awareness
Engagement
Value
Call to action
While the concept and principles sound relatively straightforward, in practice, getting new users to find, download, install, and begin using your app is one of the main barriers to profitability.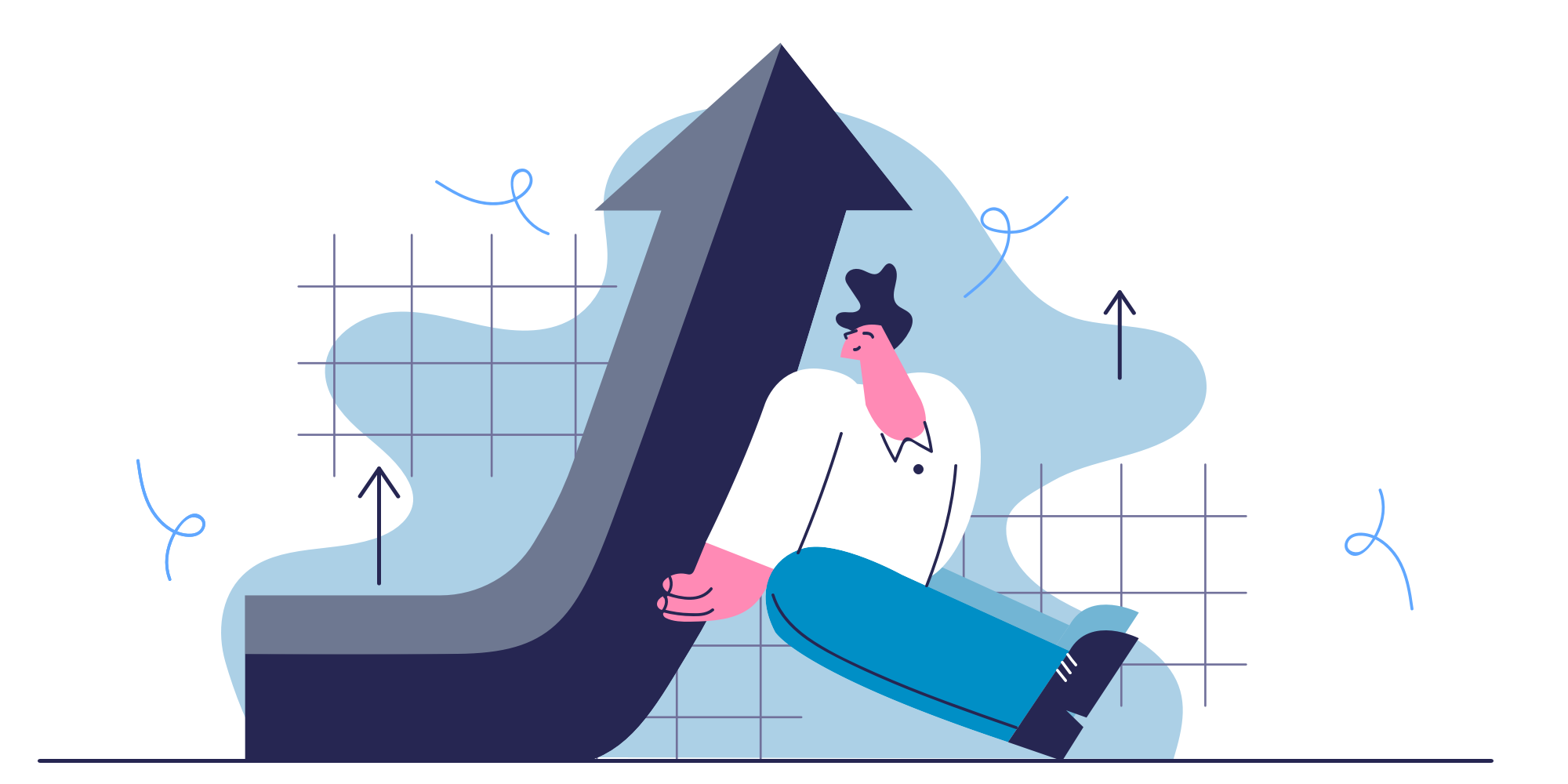 Why? Because the competition is fierce and the market is oversaturated, making attracting your ideal customers an uphill battle.
Let's take a look at each UA principle in more detail so you can fully understand why each stage is critical to your app's success.
1. Building awareness and anticipation
If people don't know your app exists, how will they know to download and use it? Building brand awareness for your app is absolutely critical in order to get the word out and build anticipation.
Paid ads and influencer marketing are two very effective tactics for building awareness around your app. Paid ads can be particularly effective when properly targeted with keyword searches.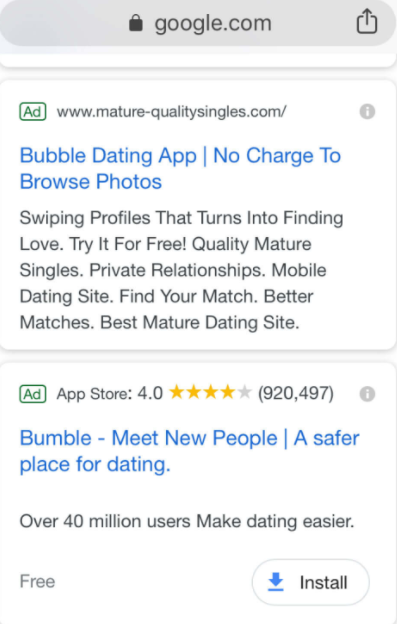 For example, the dating app Bumble very successfully leverages paid ads with keyword targeting. You can see how this ad is more attractive and actionable than the one above for Bubble.
Other channels, such as word of mouth or referrals, also play a significant role for new apps looking to get their name out there. Funnily enough, billboard and poster marketing, when done correctly, are also fantastic awareness-builders for new apps.
2. Engaging your audience and cutting through the noise
After encountering your app, you need to catch and hold a potential users' attention.
This engagement step is critical in the UA journey. It's the moment a new user filters the marketing noise around them and focuses their attention solely on your messaging. Engaging material can be anything from copy, a video thumbnail, or an image that piques the viewer's intrigue.
If we refer again back to Bumbles' paid ad, we can see very clearly they highlight their extensive user base of 40 million love-seekers to engage and catch the attention of potential users.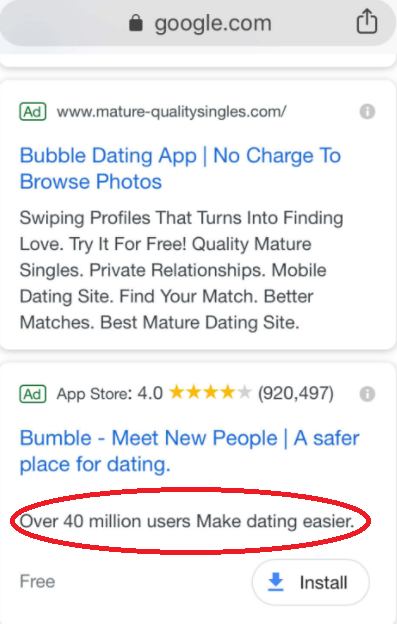 After grabbing their attention, the following principle immediately comes into play—proving your value.
3. Proving your value and providing "aha!" moments
Proving value is the lightbulb moment where your target users decide that your app will make their life better. Apps can promise a user anything, from finding love, to getting in shape, to reading a book a day—but potential users need to believe you can deliver on this value if they are to download your app.
Qualitative and quantitative social proof, and written or video testimonials are successful and popular tactics for proving value. That's because they allow your potential users to picture themselves engaging with your app, which is a critical part of the buying journey.
Carrying on with our Bumble example, they leverage social proof in the form of 920,497 users who have rated the app for an average of 4 stars.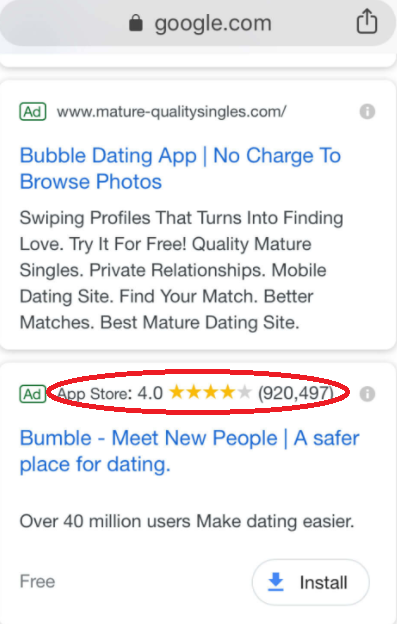 Anything that helps your potential user visualise how using your app will directly benefit them or solve a problem they have will help you build trust—which is the pillar of customer loyalty.
4. Call to action
Finally, after letting a new user know your app exists, catching their attention with engaging material, and proving your value, it's time to nudge your potential users towards downloading and installing your app.
In most cases, the best way to do this is with copy that explicitly states 'go to the app store and download our app'. Shorter versions, such as 'install' or 'try for free', are commonly used and compelling calls to action as well.
And, you guessed it, Bumble does this as well: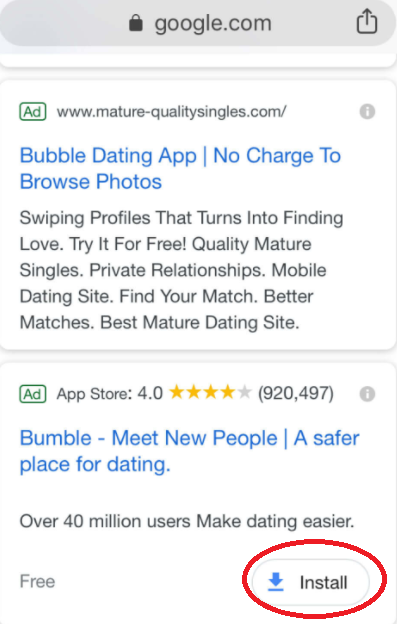 No matter what copy you go with, make sure to include multiple CTAs in your UA strategy to make downloading your app easy and seamless.
Now, we'll look at the framework within which these principles work and how you can begin developing your own user acquisition strategy.
How to develop and optimise a user acquisition strategy
The four UA principles address the customer journey from awareness to download.
From this perspective, developing a user acquisition campaign can be viewed as a sales pipeline because the buying process follows similar touchpoints.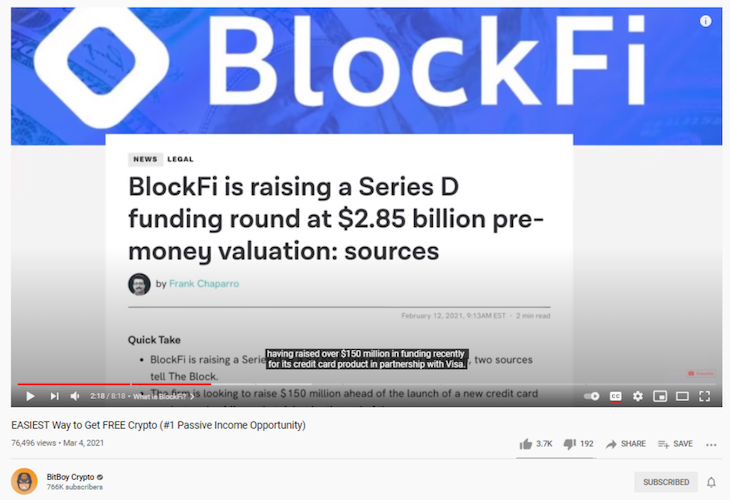 Formulating a user acquisition strategy that will work as an effective sales funnel for your app depends on several key factors:
Identify and research target audience
Select marketing channels based on your research
Determine budget and distribution
Create and repurpose content for different channels
Let's explore each in more detail.
Identify and research your target audience
The average smartphone owner only downloads two apps per month. This means in-depth knowledge of your target market is particularly important, as only hyper-personalised UA strategies enjoy success.
Identifying your target audience means profiling your ideal customer with as much detail as possible. For example:
"Our ideal user is a new mother between 28-40. She has expendable income, no strong religious affiliation, works from home, prefers Apple over Android, is active across all major social media platforms, and feels she struggles to find time for herself now she is raising her first child. She misses her slow, easy mornings with her coffee and her book".
Gather as many data points and metrics on your user base as possible to identify precisely who your app is for. You can then begin to formulate your UA strategy around that theoretical individual.
Select marketing channels based on your research
It's essential to select your marketing channels based on your target audience's behaviour.
Ask yourself:
Where do they hang out online?
Where do they go to find new information?
What types of content do they engage with the most?
It's also important to take demographics into mind. Look at how major platforms like Twitter, LinkedIn and Pinterest attract different ages and genders:
As you can see with these metrics, age, gender, and user demographics fluctuate massively between different marketing channels. Knowing who you want to target will help save your marketing dollar and focus your UA strategy on the correct channels.
Determine budget and distribution
Allocating budget effectively across various marketing channels can be a challenge. That's because understanding the success of a campaign requires testing, optimisation, and retesting.
Many marketing channels offer both paid and organic advertising. Best practice is to start with organic efforts, such as posting on LinkedIn or Twitter, tracking engagement, and then deciding on a paid strategy based on those results.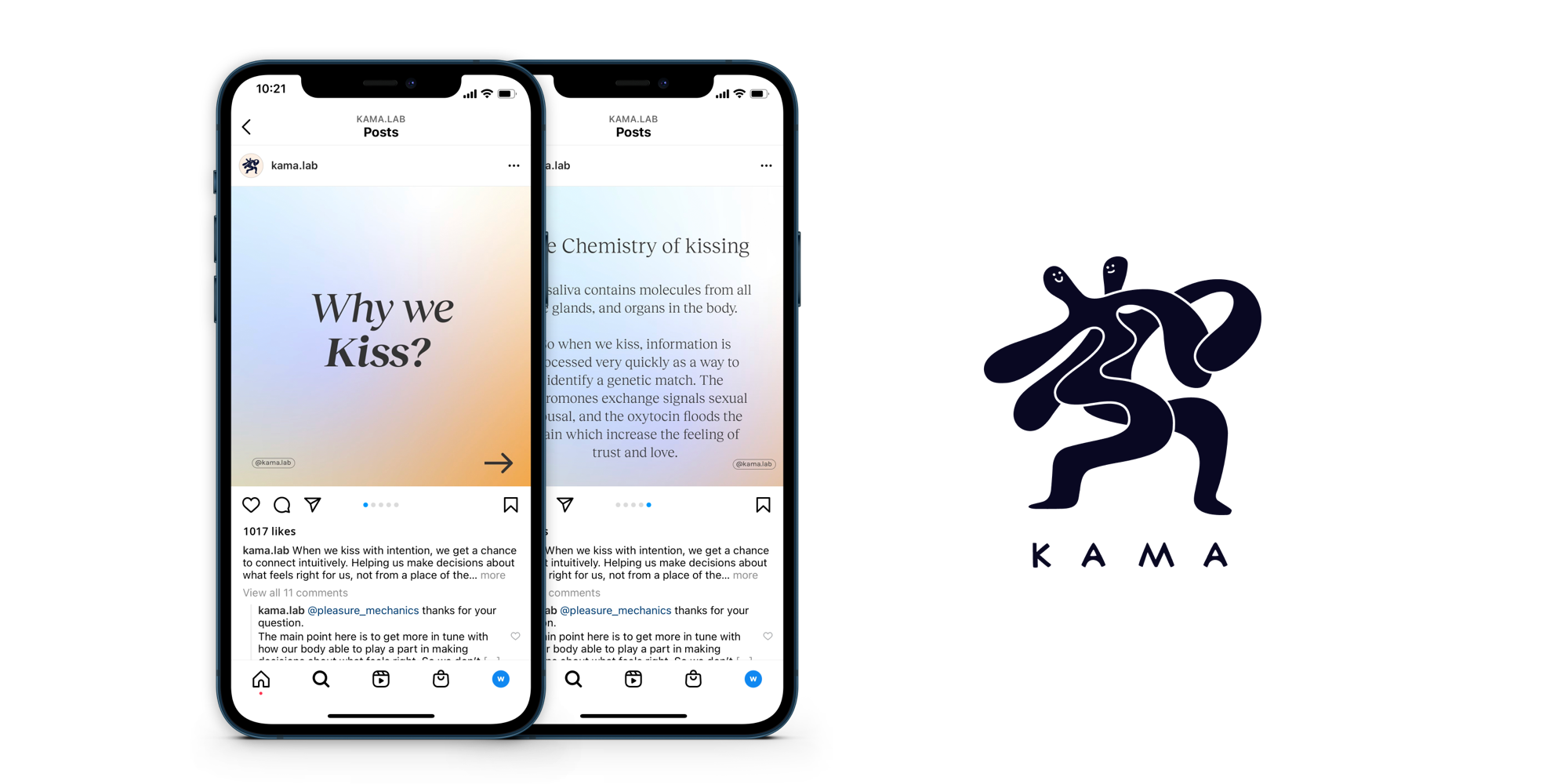 For example, this organic Instagram post on "why we kiss" by Kama, a mindful sex & wellness app, generated 883 likes and over 11 comments. This demonstrates there is significant interest surrounding this particular topic, which could be worth pursuing further with paid advertising options.
Once you know which content and which platforms are getting the most organic traction, you can invest in paid ads, agencies, influencers, and the like.
Create and repurpose content for different channels
Creating and retargeting content means saying the same thing in different ways.
For example, say you feature as a guest speaker on a podcast. That's one content format. You then take that podcast script and team up with a YouTube influencer in your industry, asking them to endorse your app.
You also take the original script from your podcast interview and transcribe it, creating four blog articles that you then publish on your website. This gives you ideal SEO content for your organic traffic efforts in the long term.
You then break those articles down into 20 separate LinkedIn posts and publish them over two months.
Finally, you take the content from the LinkedIn post that received the most engagement and create a paid ads campaign using the message and language from that post.
See how a single interview or discussion can become a weapon for your UA strategy? You'll be saying the same stuff you talked about on the initial podcast but present it differently according to the channels you're publishing the material on.
5 user acquisition channels for 2021
As we have discussed, UA techniques need to be targeted, personalised, and diverse. Here, we look at five of the most effective mobile app user acquisition techniques:
App Store Optimization (ASO)
Organic mobile app user acquisition
Paid ads
Influencer marketing
Design to scale user growth
App Store Optimization (ASO)
App stores are the number one driver of app discovery. Every day, more than 561 million apps are downloaded from various app stores. As such, you must optimise your in-store app listing for visibility and conversions, which helps the algorithms recognise and rank your app campaigns.
On-page elements
Including keywords in your title and description, using a combination of attention-grabbing in-app screenshots, designing a recognisable app icon, and writing conversion-optimised copy can increase app store rankings' visibility.
Localised app store pages
Ensuring you optimise your app store page for different locations and languages can increase downloads by over 767%. This comes back to being specific with who you target with your UA strategy.
Social proof
Using testimonials and engaging with users who publicly comment on your app is an excellent tactic to demonstrate that you are involved and appreciate your users' time and feedback.
Take Dark Sky Weather as an example.
Originally listed as "Dark Sky", the app ranked around #180 on the app store. When the app founders tweaked the title to "Dark Sky Weather" and made several other important keyword changes and upgrades to their app-store listing, they moved up over 130 positions in the rankings.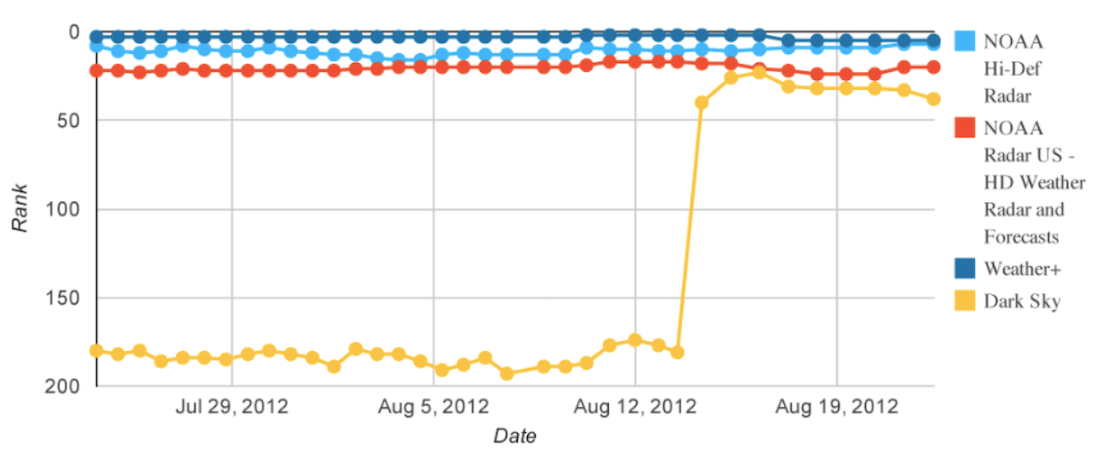 Results for App Store search for "Weather."
And here is their app store listing: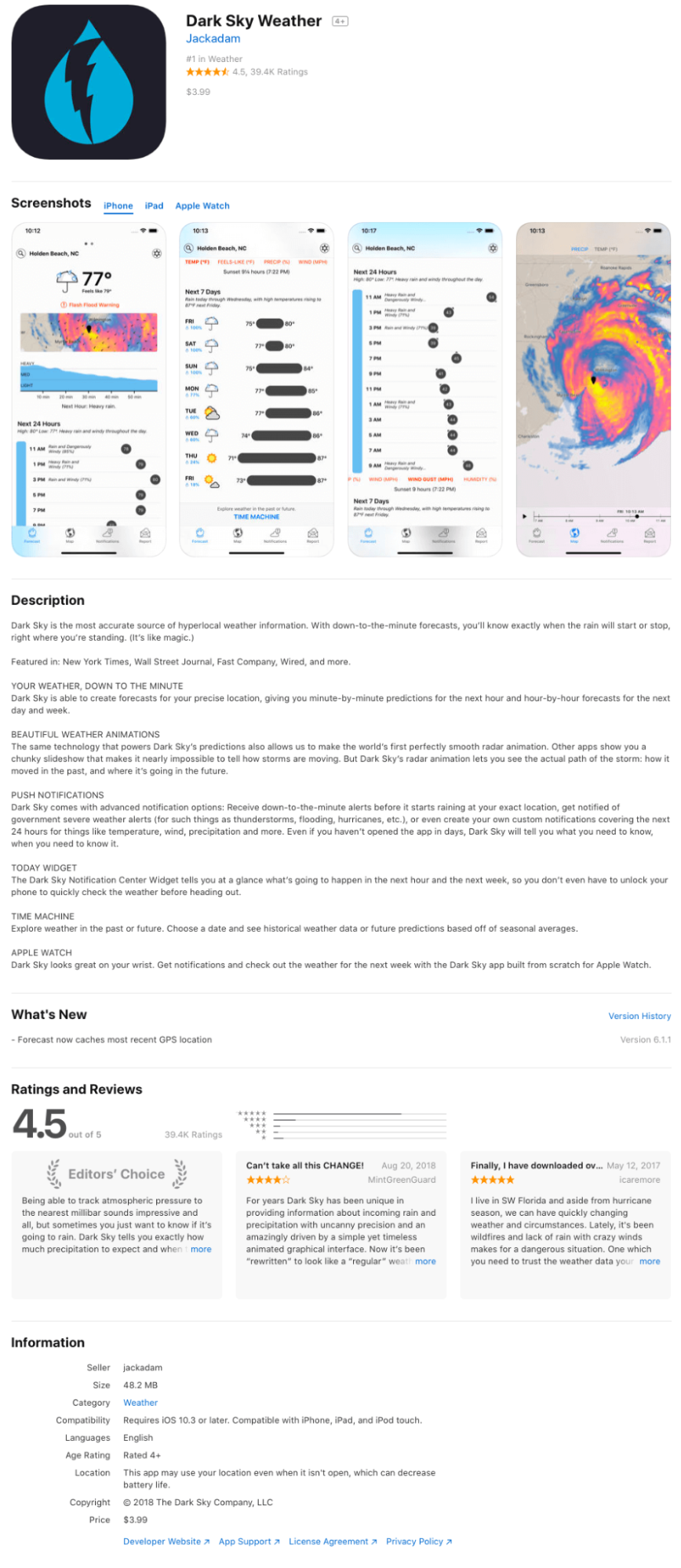 You can see the detail that the team behind Dark Sky have gone into on their app-store listing:
Memorable and relevant logo to visually portray the purpose and function of the app
In-app screenshots to show the potential user exactly what to expect
Detailed description of what the app does that answers any questions the user might be having
Highlights the social proof with rating and reviews
When designing your app-store listing, be as detailed as Dark Sky and you'll enjoy similar user acquisition success in no time.
Organic mobile app user acquisition
Organic traffic comes from optimising your online presence for search engines. Search engines and organic traffic do take time to start gaining traction, though. The best results come from combining organic SEO efforts with paid ads, leading to a 150% increase in app installs.
Start by creating a website optimised for conversion rates. To do this, add smart banners to your landing pages that direct users from your website directly to your app store page for installation.
Publishing high-quality articles as part of a content marketing strategy can answer the questions your target audience is asking search engines. You can attract particular traffic to your website and then direct them towards your app store page from there.
Creating this online material also offers you an excellent opportunity to bring vast amounts of educational material to your target audience, establishing credibility and authority.
Take Headspace as an example.
Founded in 2010, Headspace now generates over 65 million new customers and active users each year and is valued at $320 million.
Headspace's organic user acquisition efforts include articles, sound clips, and animations highlighting the benefits of meditation. Headspace writes this educational material so the app's potential users can find it, engage with it, then go to the app store to download the app.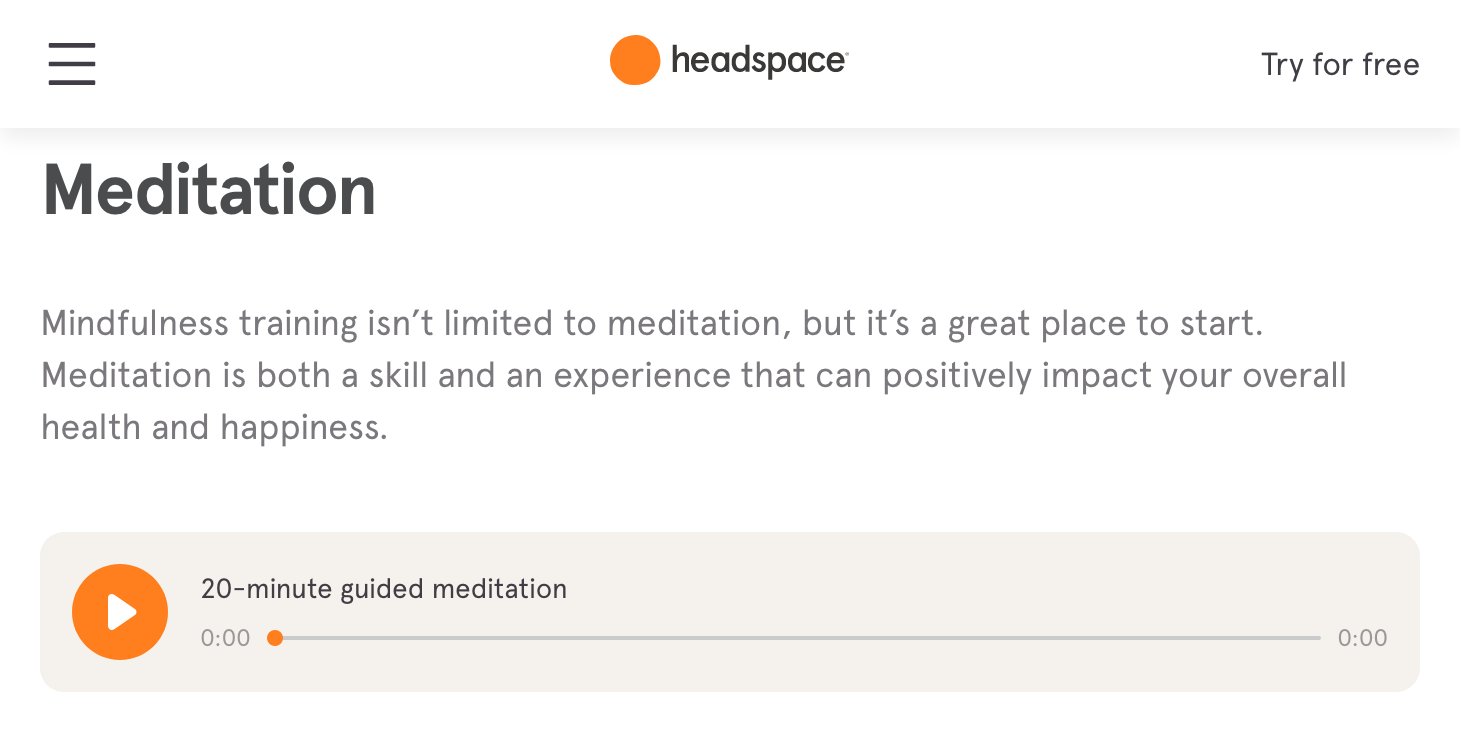 Paid advertising
Paid ad networks bring fast results, but can get very expensive, very quickly. The average small business spends between $9,000 to $10,000 on their monthly online advertising.
For example, this PPC paid ad for the fitness app Freeletics costs the company between $1-$2 dollars, every single time someone clicks on the advert.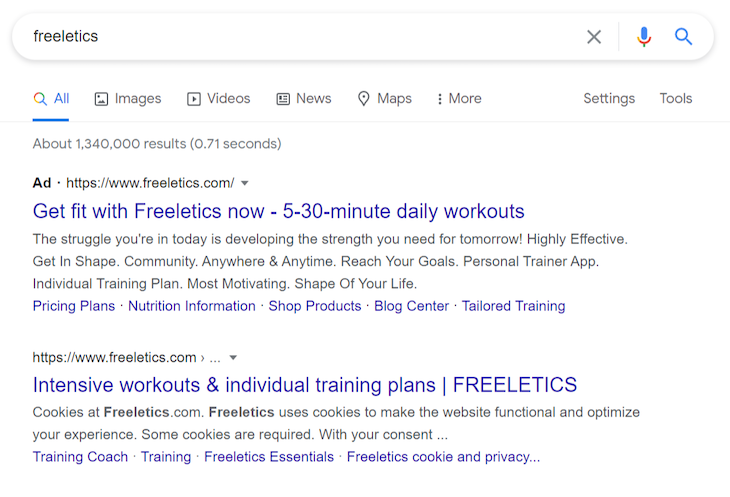 Paid ads appear all over a user's device and computer, from search engine results to advertising banners on websites, mobile ads, Facebook ads, video ads in social media channels, and specialist posts in feeds.
Most app founders are working on tight budgets, so it's essential to watch your ad spend. Getting paid advertising correct and minimising the costs is vital to using it as a successful UA technique.
Audience targeting is a critical aspect of keeping your paid ads cost down, particularly with pay per click and other impression-based cost structures. Working with an ads specialist can help you develop the language necessary to hone in on your target market.
Influencer marketing
Influencer marketing is an excellent initial approach for apps that have launched, ironed out the kinks, and are ready for mass adoption but lack the funding for a full-blown paid ads campaign.
Building rapport and confidence with your target audience is one of the most challenging things to do in any marketing campaign. Piggy-backing off an influencer's following allows you to leverage their trust and credibility.
Because the influencer already has an audience of people who trust them, even like them, that audience is far more likely to listen to the influencer over someone completely new—at least, in the short term.
App founders need to consider which platform they want to use for their influencer. Facebook, YouTube, Instagram, Blogger? Which one suits you best depends on who your target market is and again, where they hang out online.
Take BlockFi as an example.
BlockFi, a cryptocurrency lending platform, has a very niche market.
As such, they pair with YouTube influencers in the cryptocurrency space, such as BitBoy Crypto. This gives Blockfi direct exposure to over 750k followers in their niche, who trust whatever product their YouTuber endorses.
Using influencers can also increase user retention rate down the line, which increases your users' lifetime value and gets a better ROI from your influencer marketers.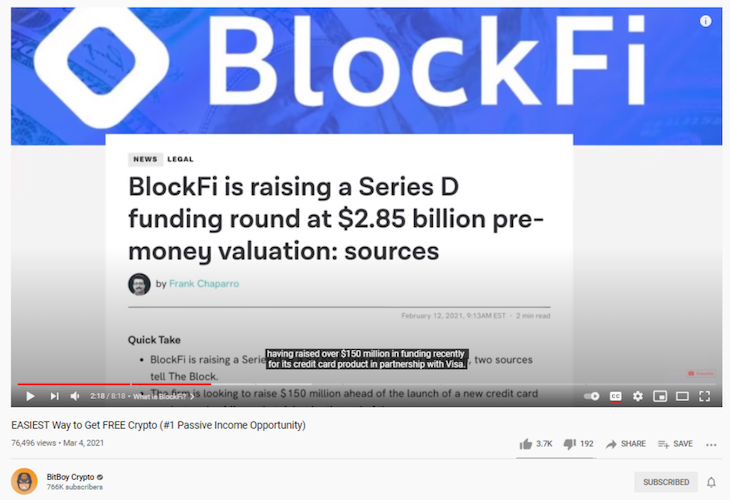 So far, each of the user acquisition tactics we've discussed has utilised external tactics (or processes that happen outside of the application to draw people towards and into the app).
For the final UA technique, we'll focus on an internal or intrinsic tactic—designing your app with user growth in mind.
Design to scale user growth
Designing your app with features that encourage social sharing and interaction between people is a fantastic way to get more people to use your app.
From easily shareable quotes to sending challenges or encouraging social sharing (e.g. peers sharing how much progress they are making within an app), designing an app with user growth in mind sets you up for success from the get go.
Take Headspace as an example.
One app that does this very effectively is Headspace, with its mindful moments features.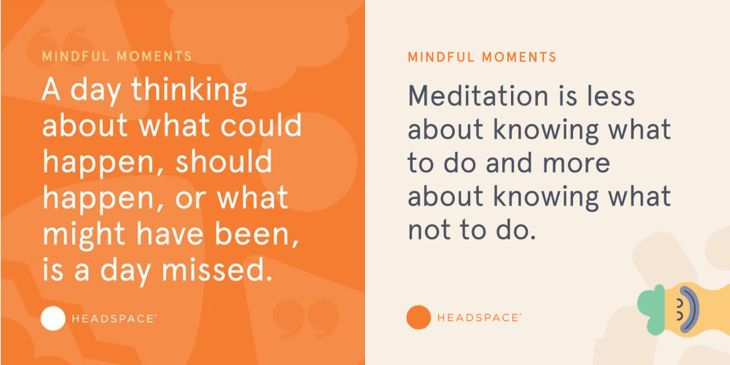 Headspace presents its current users with these 'mindful moments' at specific touch-points throughout the app. They then offer the option to share these moments with anyone in their contact book, making it simple to send these Headspace-branded images to people through Facebook, WhatsApp, Telegram, or email.
Implementing such features encourages your current users to do user acquisition for you.
Wrapping up
Once you've come up with your ground-breaking app idea and teamed up with an app developer to create your app, you need to get people using it.
Finding new people to use your app requires specific, targeted efforts across multiple acquisition channels to ensure you're attracting the right audience, at the right time, and giving them the right incentives to download and install your app.
If you follow similar principles and frameworks to a sales pipeline but tweak them for app user acquisition, you're on the right track. Remember that all effective marketing comes from having a solid understanding of your target audience and what you can offer them.
Know what you're selling, who you're selling to, and how to sell it, and your app will be a flying success.